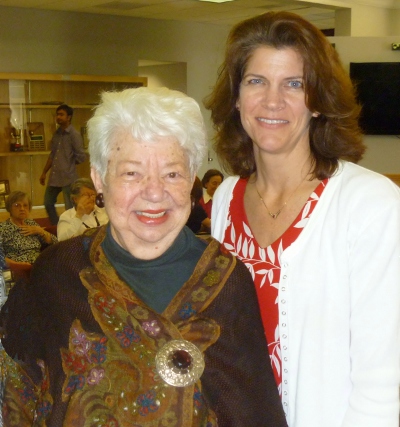 VERO BEACH — Vero Beach women are becoming increasingly aware of the Ruth Funk Center for Textile Arts at the Florida Institute of Technology, thanks in large part to Northern Trust Bank where Ruth Funk is a client. The Center opened just 18 months ago, with the creative and financial support Funk, and already its exhibits are attracting worldwide recognition.
Susan Chenault, Vice President at Northern Trust, hosted a group of Veroites recently for the Seventh Annual Ruth Funk Lecturer in Textiles showcase lecture and luncheon at the Melbourne based university.  Entitled Uncommon Threads: Little Black Dress, the program drew a sold-out crowd because let's face it – what woman doesn't have a favorite little black dress?
Prior to introducing the speaker A.J. Cantanese, Florida Tech President, noted that the university is expanding more into the arts, commenting on the skill correlation between areas such as math and mathematics.
Guest lecturer Valerie Steele, who the New York Times named the "High Heeled Historian," received her Ph.D. from Yale University and is currently the Director and Chief Curator of the Museum at the Fashion Institute of Technology.Her illustrated talk took guests on an informative journey through history, demonstrating how fashions throughout the ages have used black to represent everything from evil and sadness to power and elegance.   In women's fashions especially, the color has been used to create dangerous, sexy, femme fatal fashions, austere puritanical styles and everything in between.
In thinking of their own wardrobes, the women at our table were all in agreement with Dior who said, "You can wear black at any time. You can wear it at any age. You may wear it for almost any occasion."
The Ruth Funk Center for Textile Arts, one of only a handful of textiles centers in the country, presents rotating public exhibitions and educational programs.  The Center is open to the public Tuesday – Friday, from 10 a.m. to 4 p.m. and Saturdays, noon to 4 p.m.
For more information, call (321) 674-8313 or visit http://textiles.fit.edu.