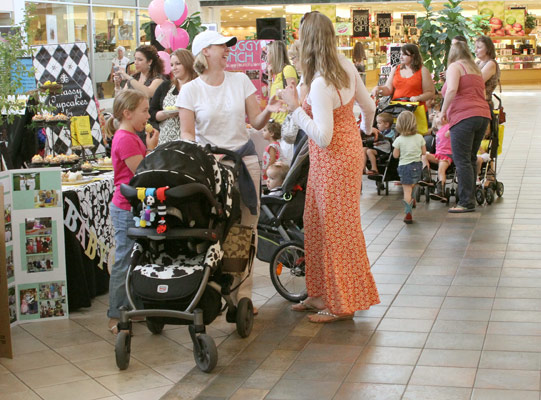 INDIAN RIVER COUNTY – A few hundred moms, mothers-to-be and their friends gathered at Indian River Mall in search of deals, information and camaraderie.
"I'm really happy," said mom-to-be Jada Cyr-Hoke, who is 36 weeks pregnant with her son, Owen. Cyr-Hoke said that she was learning a lot and meeting some "great" vendors at the Indian River Mall.
Her midwife, Angela Love of Midwife Love, had told her about the Treasure Coast Biggest Baby Shower and Kids Expo and encouraged her to come out.
"There are a lot of things I didn't know were happening," Cyr-Hoke said.
One of the many vendors set up in the plaza in front of Dillards was the Children's Discovery Center, whose representatives said they were enjoying the event.
"It's really good," owner Mary Jane Mills said.
Though they had been fielding various questions from young moms, there was one question at the top of everyone's list – does the Children's Discovery Center offer voluntary pre-kindergarten?
"Everybody's interested in that," said Coral Heady.
Mills explained that many youth centers anymore are cutting back on their infant programs, but not the Children's Discovery Center.
Along with perusing a number of booths offering everything from childcare and midwifery to cupcakes, cakes and portrait photography, moms got to watch a children's fashion show while oohing and aahing over the latest kid fashions and even compete for prizes while trying to identify the "surprise" in some "dirty" diapers.
The moms took turns up on stage and were handed a dirty diaper with a melted chocolate candy inside. They were given a little bit of time to examine the mess, then encouraged to sniff it to identify. If they got it right, they won a prize from an area vendor.
Frae Herndon was the first to take the challenge, accompanied by her children, Kali, 5, Ada, 3, and Conrad, 2.
"I really don't have any fear of standing up in public," Herndon said. She won a 6-class session to Kidtivities after correctly identifying Reese's Peanut Butter Cups as being the mess in the diaper.
"The kids are enjoying it," Herndon said of the event. "They're excited about the facepainting."
Rosemary Gerena also tried her nose in the baby shower game.
"I don't know because I don't eat chocolate!" Gerena said after sniffing out chocolate and coconut.
She, with the help of a friend off-stage, correctly identified it as an Almond Joy.
Mixed in with the vendors was a booth for March of Dimes, which is planning a march in Riverside Park, Vero Beach, March 5.
"People are being really generous," said Rebecca Lachance, explaining that many had stopped to ask how they could either get involved or make donations.
"There are a lot of happy people," Kristen Turcone added.
The March of Dimes march will start at 8:30 a.m. For more information about the event, visit www.MarchOfDimes.com.
Ursula Gunter, media relations director for the Indian River Mall, said she couldn't be happier with the community's response to the Baby Shower and Kids Expo. Though this was a first for the mall, Gunter said she hopes to make it an annual event.