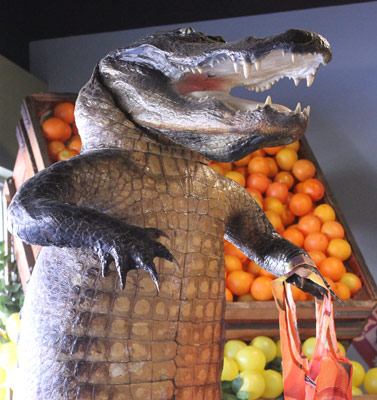 VERO BEACH – Hale Groves River Market opened its doors for the first time Thursday, welcoming in a steady stream of customers all day long, despite little fanfare.
The sister store of the one on US 1 in Wabasso, the Vero Beach location has a similar look and feel but offers a lot more. Like the Wabasso shop, the store is split into two big rooms – fresh produce in one, packaged foods in another.
In Vero Beach, however, there's been the addition of a soup and salad bar, a cooler of prepared meals ready to go home, and even a meat and seafood counter.
"We've got everything Wabasso has," said Retail Manager Kristin DiPentima. "Old favorites plus a lot more."
Building on the successful model of the other store, the Vero Beach location is expected to be open year-round, having the prepared foods and counters, including a floral department to keep customers coming in.
"I am thrilled," said Vero Beach resident and shopper Ann Smith. "This is a real asset for the community."
Smith, having been a resident since May, hasn't stopped at the Hale location on US 1 – but saw the signs announcing the Vero Beach store.
She said she kept driving by to see if the store was open – and it finally was.
"This is really nice," Smith said, noting the variety given the size of the store. "There's something about not being so big."
Fellow shoppers seemed equally pleased with the store.
"It looks like a very nice place," Dave Minuse said, pausing while grabbing loose sugar snap peas and placing them in a bag.
They were the first item he saw.
"They look fresh," Minuse said.
Along with the fresh produce, meat and seafood, Hale Groves River Market has added a floral department with orchids, lilies, tulips, Gerbera daisies, hydrangeas and more.
Joan Wooldridge, floral and gift basket designer, said that the department will be full-service, minus delivery. She added that if the store doesn't have the flower a customer is looking for, they can special order it and have it in a couple days.
The Vero Beach store was originally supposed to open in October, but was delayed a couple months.
"Construction took a lot longer than we thought," DiPentima said.
The store could not have opened soon enough for Eleanor Byrnes, who used to shop at the Hale location on Beachland Boulevard.
"I was heartbroken when it closed," Byrnes said. "I'm happy to have it close to home again."
 ***
Hale Groves River Market
Location: 2207 7th Ave., Vero Beach, off Miracle Mile
Phone: (772) 778-3591
Hours: Monday-Saturday 8 a.m. to 7 p.m.; Sunday 9 a.m. to 4 p.m.