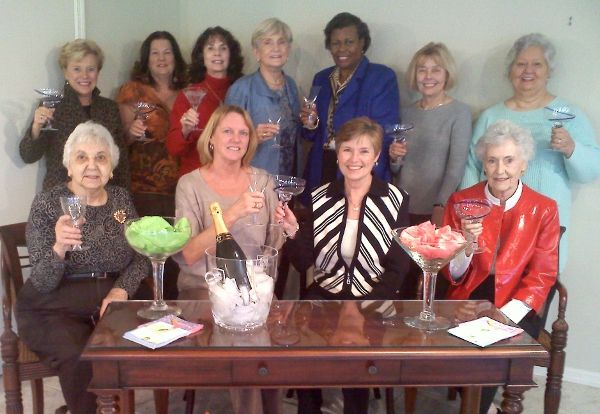 VERO BEACH — More than 120 Planned Parenthood supporters will gather for Cocktails with a Twist in the Starlight Lounge, at its annual fundraiser to benefit the organization on Friday, February 11. Guest will enjoy cocktails, a tapas buffet, live auction and entertainment in a lovely setting with friends. The event, which takes place from 6 to 9 p.m., also includes a Live Auction featuring such items as an 18 Karat Gold Cocktail Ring, with 31 full cut diamonds in pave' setting; Individually Hand-blown "Original Window" Randi Solin Artglass Sculpture; The Blondie Necklace by One of  a Kind Jewelry; Antique Hand-sewn Oriental Rug; and Framed Antique Japanese Silks.
Suzy Bromwell and Linda MacDonald are proud to serve as co-chairs for this annual fundraiser.  "I'm co-chairing "Cocktails with a Twist" for two reasons," said Bromwell.  "First, as a volunteer for nearly 25 years, I know how important the services and educational programs Planned Parenthood provides are to our clients and the communities we serve. Second, the event will give our guests an opportunity to come together, renew friendships, meet like-mined supporters and have a great time in a lovely setting."
Funds raised will help ensure that Planned Parenthood's programs and services in Indian River County will continue to thrive. All proceeds will go directly to education, health care and advocacy programs.
The mission of Planned Parenthood of South Florida and the Treasure Coast is to provide comprehensive sexual health care through the provision of clinical services, education and advocacy. We do so by understanding and responding to the needs of those seeking our services, and by protecting and respecting the essential privacy rights, dignity and culture of each individual.
Tickets are $100 per person.
For reservations and additional information:  Call (800) 225-1540 or visit www.ppsoflo.org