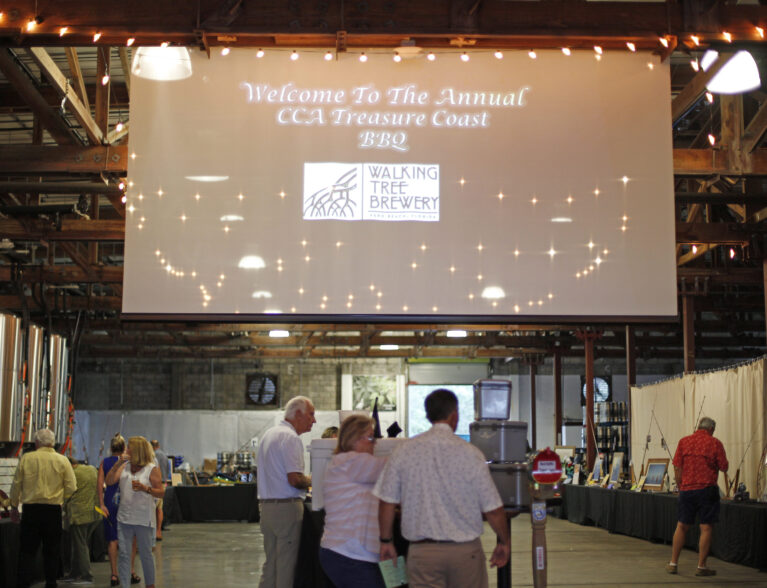 More than 200 conservation-minded anglers and other outdoors enthusiasts gathered Friday at Vero Beach's Walking Tree Brewery to sample craft beers and wine, chow down on savory barbecue from 14 Bones, and bid on auction items ranging from fishing tackle to African safaris –all to raise money for fisheries and habitat conservation in the Sunshine State.
The occasion was the fourth annual fundraiser for the 500-member Treasure Coast chapter of Coastal Conservation Association-Florida  –one of 42 chapters in the state–and arguably the most active. Vero Beach fishing guide captain Paul Fafeita is chapter president and also heads the Clean Water Coalition of Indian River County.
"We bring awareness to our lagoon situation," Fafeita said.  "We're concerned about saltwater fisheries. The money goes back to the state organization and it is doled out to various projects."
Some of those projects:  this past summer's deployment of the Voici Bernadette/Curtis Bostick artificial reef in the ocean off St. Lucie County;  assisting Vero Beach marine scientist Dr. Grant Gilmore with an ongoing acoustic study of spawning sea trout in the Indian River Lagoon;  helping Space Coast fishing guide/television host captain Blair Wiggins with a clam restoration project in the lagoon; sponsoring last summer's "Lines in the Lagoon' youth fishing tournament in Sebastian; and a fishing expo planned for Jan. 18 at Walking Tree.
"Paul Fafeita has done a wonderful job of getting people involved and keeping them involved," said Frank Gidus, CCA-Florida's director of habitat and environmental restoration.  "We have a lot of really bright, smart people in this area–Harbor Branch Oceanographic Institute, Florida Institute of Technology–all working together to restore this lagoon."
Gidus said the Treasure Coast chapter has made significant contributions to CCA-Florida's donation of more than $800,000 to habitat restoration projects in Florida since 2010.
Guests at Friday's barbecue continued that push, bidding enthusiastically in a live auction of fishing tackle, vacation packages, artwork, and other items with proceeds earmarked for conservation.
Gidus, asked about his view of the future prospects for a healthy Indian River Lagoon, said:  "It may not happen in my lifetime, but I have absolute confidence we'll get the lagoon back to a point where it's thriving again.  That's what we're all working for."
Photos by Kaila Jones