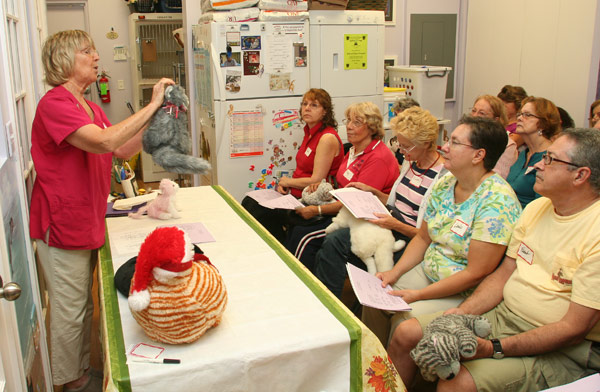 INDIAN RIVER COUNTY — Cat lovers with stuffed animals learned how to massage their way to a better relationship with their cat at a recent cat massage workshop.
Laurie Iodice, self proclaimed "Feline Aficionado," led a class of 20 people who squeezed into The Cat Hospital of Vero Beach in a class where they were taught how to massage their cat. Pet owners were encouraged to bring a stuffed animal to learn on. Most brought cats, though one participant brought a stuffed Dachshund and another had a stuffed lamb that they would practice the techniques on.
"I have five cats," said Marcie Young. "Since they're always giving me love, I want to give some back."
The class was free and open to the public. The Humane Society has one scheduled for March 26, 1-3 p.m.
"Cat massage is a style of petting," said Iodice.
Massage tones the muscles, improves circulation in your cat, and promotes physical well being, she told the group.
Information taught in the class was based on a book that is no longer in publication, "Cat Massage – A Whiskers-to-tail guide to your cat's ultimate petting experience," by MaryJean Ballner.
"In reality you probably do a lot of this already," said Iodice.
Three tips were suggested participants follow during the class, including be relaxed. Iodice explained that if you're tense, your cat will pick up on that; be flexible, and slow strokes all the way to the tail.
Iodice cautioned against making the following mistakes while massaging a cat – doing it too fast or too hard, and having a loud tone and high pitch to your voice. Loud, high-pitch speech is irritating to cats because of their acute hearing ability, according to Iodice.
One benefit of massaging your cat is the ability to treat it as a wellness check at the same time. Iodice shared a story of when she found a tumor on her cat's stomach. It was removed right away and the cat lived a long time after the surgery.
"At first you'll be initiating it," Iodice said. "After a while your cat will start to search you out for massages. If you're doing it right your cat's going to love it – if you're not doing it right your cat's going to let you know."
"I guess if he bites me, I'll know," one participant quipped.