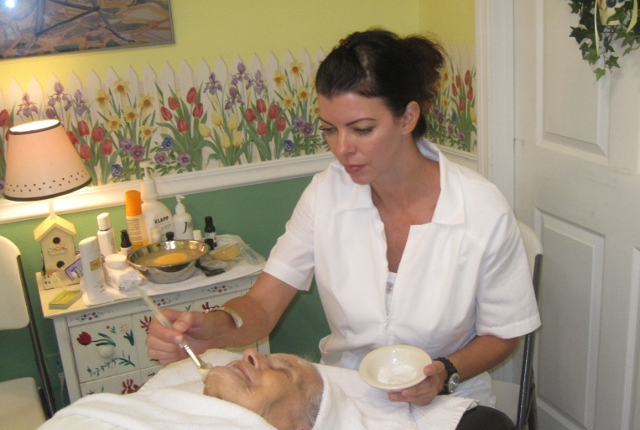 VERO BEACH – Holly Mercuri, certified permanent make-up specialist and licensed esthetician, recently held a Day of Beauty at Saint Francis Manor of Vero Beach. Eight ladies, all residents of this beautiful and affordable quality independent living facility, received mini-facials and other procedures from her extensive repertoire of facial enhancements.
Each truly enjoyed Holly's 30-minute facial massages and treatments. For some residents, this was the first facial they ever had.
"I cannot tell you how much I am enjoying it. It makes me feel young again," exclaimed Jean Grennan.
"I love what I do, and I appreciate my clients' trust in my capabilities. But I do not take success for granted. I feel a great need to share and give back," said Mercuri who has practiced for six years.
Earlier this year Mercuri held a Day of Beauty at By the River, a senior facility in Sebastian, and she intends to continue her volunteer work to bring her treatments to those who may have limited access, especially residents of senior facilities. As she likes to say, "Beauty is not limited by age".
Mercuri has trained extensively in the techniques of permanent make-up, skincare, facial cosmetic enhancement and make-up application. Her business, Reflections Esthetics & Laser, is located at 1265 37th Street, #C in Vero Beach. An artist who works with her hands and heart, she is also a Committee Member of the American Cancer Society.
For more information about Mercuri, visit www.naturallastingbeauty.com or call 772-559-0582.
For information about Saint Francis Manor, visit www.stfrancismanor.org or call 772-562-8575.