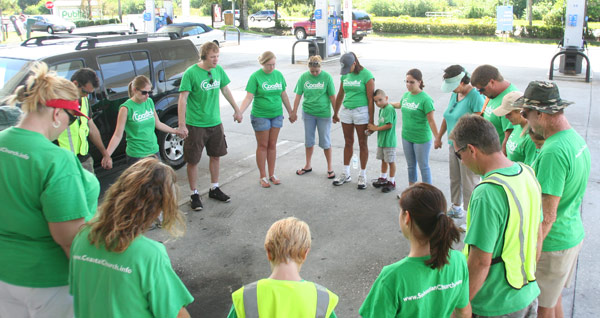 SEBASTIAN – An hour before gas was to drop 50 cents at the Shark Mart Mobil Gas Station, vehicles began lining up.
First in line was Robert Nici, a school bus driver for the Indian River County School District.
"I had heard about it before," Nici said of the annual Gas Buy-Down sponsored by Coastal Community Church. This was his first time, though, to participate. "I'm sending the wife to New England next month," Nici said. "She'll have a few extra ducats in her purse."
Nici was the first to fuel up, deciding to go with the premium gasoline for $2.49 – down from $2.99 and still a savings over the $2.69 regularly priced regular gas.
"Might as well go with the best," Nici said. "Anything is still a savings."
By the time he drove out of the gas station, he had filled his tank with 8.9 gallons of gasoline for $22.34.
Pastor Seth Goldsmith said by the end of the event, they had pumped 2,240 gallons of discounted fuel.
"The event went perfect," Pastor Goldsmith said, and lasted a little longer than expected – wrapping up at 5:40 p.m. Saturday.
For the last five years, Coastal Community Church has been buying-down the price of gas as a way to help others in the community during troubling economic times.
"We just tell everyone it's really simple," Pastor Goldsmith said of why the church takes on the event. "It's because we love our community. And we want our community to sense that unconditional love that God has for everyone with no strings attached."
While pumping gas, volunteers from Coastal Community Church chatted up the drivers, telling them about the event, why they do it, and passing out information about the organization and their upcoming Block Party at Riverview Park in Sebastian.
The two events are part of the church's Fall Outreach.
Shark Mart Mobil Gas Station owner Mike Abrahim said he is happy to help with the Gas Buy-Down.
"We're a neighborhood gas station," Abrahim said. "Everyone knows the Shark Mart."
He said that the event doesn't take too much on his part because the church handles everything.
Phil Henderson waited in the line of vehicles that stretched around the side of Subway, fronting along County Road 510.
He said he was about to run out of gas, and with his wife in the nearby shopping center, it seemed like a good time to gas up.
Normally it costs him about $60 to fill his tank – with the buy-down he estimated he could save about $20.
"Every little bit helps," said fellow driver Laura Aldrich, who has been making trips out to Orlando to see family. At $25 per trip in gas, it adds up, she said.
"We want to be so much more than a place to gather on Sunday mornings," Goldsmith said recently. "We want to make a difference in our community each day of the week."