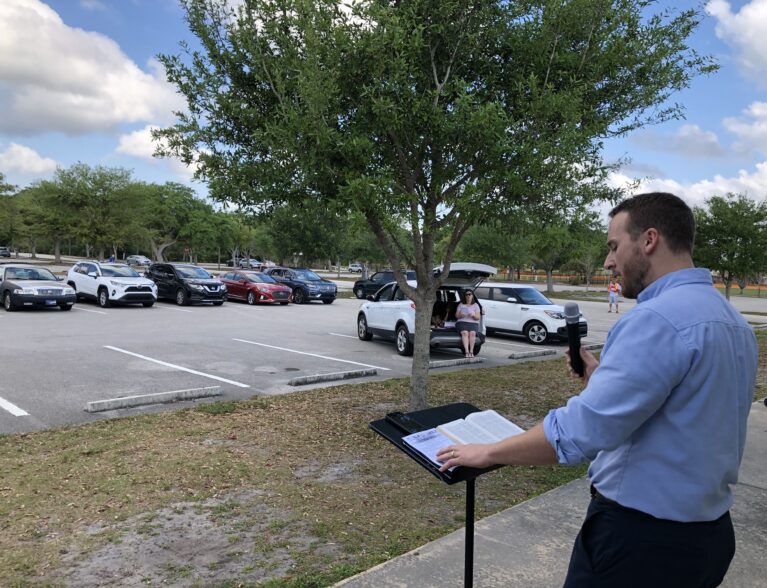 INDIAN RIVER COUNTY — The coronavirus didn't stop worshipers from using creative ideas to hold church services while also keeping a social distance.
Several people tuned in to 88.1 FM Sunday morning to hear Pastor Josh Robinson deliver a powerful message. Vero Beach Baptist Church members, including one wearing a medical mask, sat in their vehicles at South County Regional Park, watching and listening to Robinson's reassuring message about holding on to faith.
"Usually when a crisis happens, people come together. But, this (virus) is making us stay apart because of social distancing," said church member Bethany Martin, 32, of Vero Beach. "This event allows us to still gather while keeping our distance."
Residents sit in their vehicles and tune in to 88.1 FM Sunday to enjoy drive-thru church at South County Park. #VeroBeach Baptist Church hosted the service in this format as a precaution to prevent the spread of the novel coronavirus. #VeroNews pic.twitter.com/LmpK9l5DcK

— Nicholas Samuel (@JournalistNickS) March 22, 2020
Robinson read several Bible verses while he stood at a podium at the parking lot inside the park. Church members honked their horns in excitement whenever Robinson would say something uplifting to give them hope.
Missionary Matthew Frazier sung the harmonious song "God's Been Good." Frazier said he met with Robinson this past week to make plans for Sunday's service.
"I think we should be careful. But, I also think if there's a way we can still gather people to worship the Lord safely, we should do it," said Frazier, 30, of Orlando.
Praise and worship begins at drive-thru church at Vero Beach Baptist Church. #VeroNews pic.twitter.com/XH4R9kkLqI

— Nicholas Samuel (@JournalistNickS) March 22, 2020
In 2015, Robinson moved from St. Lucie County to Indian River County to create Vero Beach Baptist Church. The pastor said service is usually held at the Intergenerational Center, which closed along with other county facilities in an effort to stop the spread of the coronavirus.
Robinson said church leaders got the idea of a "drive-in" service from speaking with other ministries. The pastor said church services will be held at the park for the rest of March.
"We want to practice social distancing while also having God and fellowship. It's our desire to lift up Jesus Christ," Robinson said. "Social distancing leads to isolation. We need the church."
Several other churches have limited their capacity down to 10 people and are live-streaming their services for members. Service was live-streamed on Facebook Sunday at Church of God By Faith on 38th Street in Gifford.
Worship leader Antravious McCloud said members inside the church building sat at least 6 feet away from each other in the pews. Service carried on as usual, with musicians and singers providing praise and worship and Pastor Elder Norman Smith preaching to spark hope in the community.
McCloud said members were able to use cash app, a mobile app, if they wanted to send in their weekly offerings. The worship leader said it's still important for the community to fellowship safely amid the virus outbreak.
"The Holy Bible tells us to assemble as one body," McCloud said. "This is important because this assembly is to elevate the faith, heal, deliver and improve your relationship with God."
McCloud said the limit on church capacity will stay in place at the Church of God By Faith location in Gifford until further notice. The church also has several other locations throughout the state – including in Wabasso, Melbourne and Okeechobee – that are also taking safety precautions.
The Center for Disease Control and Prevention posted guidelines suggesting people not be within 6 feet of each other. McCloud said church service might be moved to the open parking lot next to the building if the recommended health guidelines don't change.
McCloud urged the community to love God more as the coronavirus has caused mass closings, lockdowns and layoffs throughout the nation.
"During this time, we need his prescence to give us peace," McCloud said.
Photos by Nick Samuel