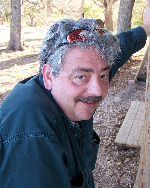 VERO BEACH — James "Jim" LoPresti, part of the renowned aviation family that settled in Vero Beach, died suddenly on July 3 at Indian River Medical Center. He was 54.LoPresti was an aeronautical engineer with a love of mathematics who embodied the company motto of "Life is short, fly fast," by devising mathematical models to help planes reduce drag and fly more efficiently.
The company moved from its long-time base at the Vero Beach Airport to Sebastian in 2009.
LoPresti Aviation CEO RJ Siegel said it was Jim LoPresti who others on the team would turn when they had a particularly challenging problem. "His forte was mathematical modeling, it was intuitive to him," Siegel said. "Whenever we needed to collaborate on a problem we would ask Jim and then work it out based on Jim's observations."Siegel said Jim LoPresti's genius was his ability to be given the task of improving efficiency by lessening the drag on an aircraft by breaking the design down on paper and then working on improvements. Siegel explained the more traditional way of attacking the problem is building a component, testing it, and then building it again."The talent he got from (family patriarch) Roy was the ability to look at the physical pieces mathematically and model the changes," Siegel said. "He was able to start much closer to the end goal."The second-oldest of four brothers, Jim LoPresti was born in Dayton, Ohio, and lived in Vero Beach for 23 years. In addition to his work on drag reduction, he helped develop the LoPresti Fury Aircraft and wrote many books on aircraft engine cooling drag reduction.He was a member of St. Augustine of Canterbury Episcopal Church, Vero Beach. Survivors include his sons, Stuart and Nicholas LoPresti, both of Vero Beach; bothers, Curt, Roy and David LoPresti, all of Vero Beach; and sister, Amy Walsh, of Texas. He was preceded in death by his parents, LeRoy and Margaret LoPresti. "He had a big heart and loved his family," said brother David LoPresti. "Family was everything to him. He was the one who always invited everyone over to house, Thanksgiving was always at his place."Memorial contributions may be made to St. Augustine of Canterbury Episcopal Church, 475 43rd Ave., Vero Beach, FL 32968. Services: A memorial service will be at 11 a.m. July 10 at St. Augustine of Canterbury Episcopal Church. Arrangements are by Thomas S. Lowther Funeral Home & Crematory, Vero Beach. A guestbook is available at www.lowtherfuneralhome.com.