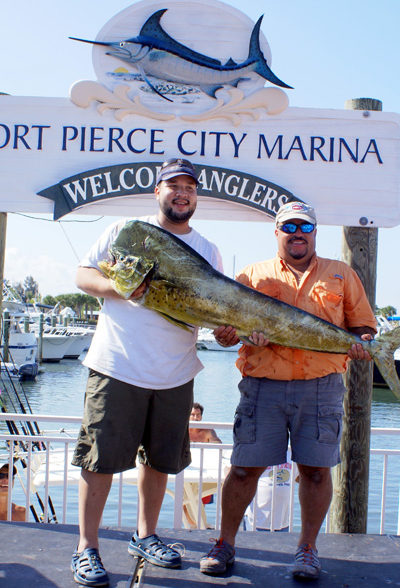 INDIAN RIVER COUNTY — Primo Rosario fishing aboard Captain Keith Angelotti's Treasure Coast Lawn caught a 40.7-pound dolphin to win the first prize of $5,000 at the 34th Annual Exchange Club Blue Water Open Dolphin Mania Charity Fishing Tournament. The dolphin-only tournament weigh-in was held Saturday, May 22 out of the Fort Pierce City Marina. Thirty-seven of the 63 boats weighed in fish.
Jimmy Dupuis, captain of Five O's, won the second prize of $2,000 with a 29.0-pound dolphin. Emily Kipp's 24.9 dolphin, caught aboard the Salty Beaver, captured the $1,000 third place prize and the Lady Angler prize, sponsored by Marllyn Justice CPA/Just Taxes.  Bradley McGuire's 21.8-pounder earned the Junior Angler award provided by DeBrooks Fishing Center.
The next ten heaviest dolphin caught, ranging from 23.5 pounds to 19.5 pounds, won $200 each for Lucky Losers David Brooks, Kevin Smith, Bradley McGuire, Tony Huerta, Matt Fahmie, Michael Bertin, Tray Hardin, and Terence Priest. Tony Huerta and Kevin Smith each caught two Lucky Loser prizewinners. The crew of the Five O's won the Mahi Moolah prize.
According to tournament chair John Binkley, 100% of the proceeds from this popular tournament benefit projects for the prevention of child abuse in the local community.
Information:  Call Club president Ed Kay at 772-234-5149 or visit www.bluewateropen.org or www.exchangeclubofindianriver.org.