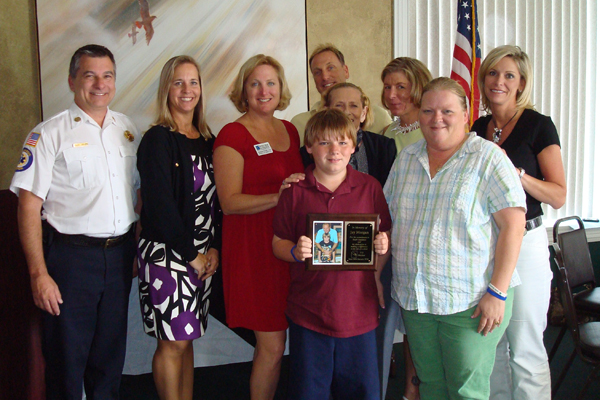 VERO BEACH — Youth Guidance and the Exchange Club of Indian River honored the late Jay Morgan on Wednesday, April 21, at Culinary Capers.  Jay Morgan was a long-time mentor, friend, firefighter and community member of Indian River County.  He was recognized with a plaque presented to his mother, Barbara "Pinky" Morgan.
Jay Morgan was a devoted volunteer of the Youth Guidance Mentoring & Activities Program of IRC and a mentor to Cody Blanton, 12, in June 2006.  They enjoyed many pastimes including fishing, bowling, motorcycle shows, video games and going out to dinner.  They had a wonderful friendship and Cody has many fond memories of their special times spent together. Cody misses Jay greatly.
Jay watched Cody blossom during their time together and was a positive influence, teaching him many activities, including how to swim. Cody hopes to get another mentor soon and will always remember the great relationship he had with Jay.
The primary purpose of Youth Guidance is to match each of its 700 at-risk K-12 children with a volunteer mentor 21 years or older.  Mentors spend just a few hours a week with their mentee doing friendship based activities that they both enjoy.
The agency is actively seeking volunteers to serve as mentors, tutors, or periodic volunteers at ongoing activities for the unmatched children in the program, or to provide regular help in the office.
Youth Guidance is also looking for partnerships with businesses, service clubs and church groups to pair with their unmatched children for just one activity a year.
The Guidance Gallery, a display board featuring 80 Youth Guidance children who need mentors, is available for organizations or businesses to display in their lobbies to help recruit mentors. Expand your world, mentor a child – it's fun, flexible & fulfilling.
For additional information, visit www.ircyouth.com or call 772-770-5040.