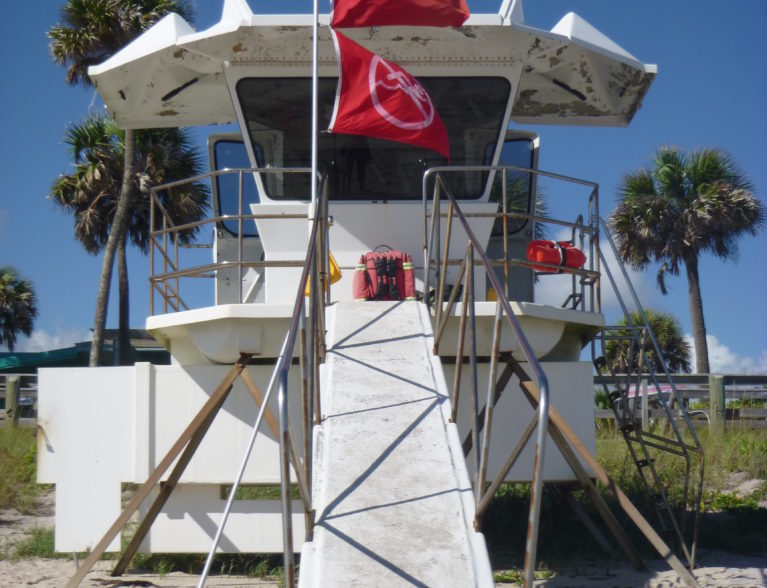 Indian River County will receive more than $522,000 from state authorities in an effort to cover clean up costs – including the removal of thousands of dead fish – caused by red tide.
Gov. Rick Scott announced the additional grant funding in a news release Wednesday. Indian River County joins four other counties that will receive $1.3 million total in funding from the Florida Department of Environmental Protection for red tide recovery efforts.
"As red tide has affected Florida's coastlines, we have taken action to combat the effects of this natural phenomenon," Scott said in a news release. "As we fight red tide, nothing is more important than supporting local efforts to protect our environment and we will continue to provide every available resource to mitigate this issue and help our communities recover."
The announcement came on the same day beaches in the county – except for Tracking Station Beach Park – reopened after recent water test results came back negative, according to emergency service officials. Red tide, a harmful algal bloom, spread throughout Indian River County two weeks ago, killing thousands of fish and causing respiratory issues for residents.
Red tide caused officials to close the beaches for about two weeks until the toxic bloom left the county Wednesday.
Health department officials collected water samples from several beaches Monday. Those samples were shipped to the Florida Fish and Wildlife Conservation Commission late Tuesday, and came back negative.
Tracking Station Beach Park remained closed because crews were still removing dead fish from the area, emergency service officials said. Details on when tracking station beach will reopen were not available.
County administrator Jason Brown previously said county and city officials were working to secure a grant of $145,000 from the DEP to cover cleanup costs.
The additional funds – which are part of the grant program launched in July by the DEP – are more than twice that amount. Brown was not immediately available for comment.
Emergency contractor Ceres Environmental Services began cleaning the beaches Oct. 20. So far, crews have canvassed more than 16 miles of the 22 and a half-mile countywide shoreline.
Crews cleaned 14,500 pounds of marine debris Monday, leading to a total of 132,000 pounds removed from the beaches so far, emergency services officials said.
Those who have more questions on red tide can contact the Indian River County Emergency Services Department at 772-226-4000.
Earlier story
INDIAN RIVER COUNTY — Small businesses impacted by the smelly red tide that killed thousands of fish in its path are now eligible to apply for a short-term loan, emergency service officials said.
The interest-free capital loans – provided by the Florida Small Business Emergency Bridge Loan Program – aim to bridge the gap between the time a catastrophe hits and when a business has gained longer term recovery resources, including sufficient profits from a revised business, receipt of payments on insurance claims or federal disaster assistance.
So far, the loan program has been used for three disaster-related events in the state – Hurricane Michael, red tide and the Lake Okeechobee algal bloom, officials said. Authorities designated Indian River County as a disaster area after red tide swept throughout the county two weeks ago, leaving a trail of fish remains on the coastline and causing respiratory issues for residents.
All small businesses who apply must have been established before August 13, 2018, officials said. The businesses must have suffered physical damage or economic loss because of red tide.
Applicants must be an employer business with a minimum of two and maximum of 100 employees, according to officials. Each company can be eligible for up to $50,000 for 180 days.
One loan is available per business and all previous bridge loans must be paid in full, officials said. The loans will be interest-free for 180 days; an 18 percent interest rate will be added afterwards on the unpaid balance until it is paid in full.
Applications will be accepted through December 16, 2018, depending on the availability of funds. Application forms can be found on the Florida Disaster Loan site.
More details on the Florida Disaster Loan can be found here.