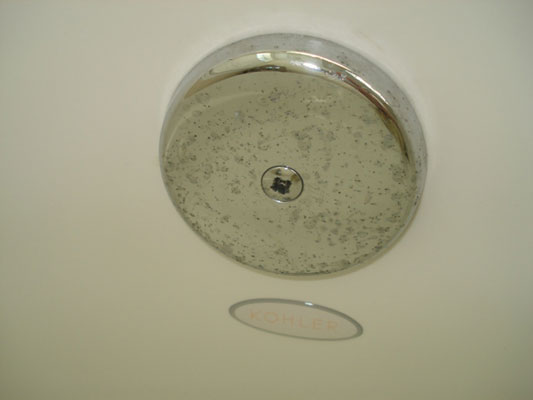 The plague of Chinese drywall manifests itself in two ways: Physical deterioration of your home and clear signs debilitating health. Dr. Harold Weiner of Boca Raton has treated or consulted with about 15 patients who have experienced health problems due to Chinese drywall. A board-certified internist who also specializes in allergy and immunology, Weiner is considered an expert in occupational and environmental medicine.
He holds a master's degree in public health and is certified in forensic medicine, so he's often called on to testify about matters related to irritants such as the ones emitted by Chinese drywall.
Weiner said the most common symptoms caused by the sulfur contamination of the Chinese drywall are burning of the eyes and irritation of the respiratory system, starting with the nose and progressing onto a sore throat, cough, headaches from congestion, etc.
The actual physical symptoms can be exacerbated by the extreme stress that dealing with the emotional and financial aspects of having Chinese drywall.
"This is evolving and we are on the low end of the learning curve," Weiner said. "The good news is that we have every indication that the symptoms clear up very shortly after the patient is removed from exposure to the irritant and that there are no lasting effects."
Attorney Brian Connelly of Gould Cooksey Fennell is representing people who have endured the anguish and financial pain of dealing with toxic Chinese dry wall. Connelly saidthe only protocol currently established is one for preserving the evidence of Chinese drywall so that homeowners can move forward with fixing their homes but retain the documents, samples and photographs required to carry forth litigation.
Though he's pursuing a way to compensate homeowners for what they've been through, he said it's a tough thing to quantify when you hear some of the horror stories.
"When you look at costs, how do you measure the cost of someone getting sick from living in a house with Chinese drywall and then the illness clearing up after they move out?" he asked rhetorically. "What is the value of that time that they were ill?"
Aside from the health issues, there is physical evidence you can look for as well.
According to the U.S. Consumer Product Safety Commission, the following are indicators that your home might have Chinese drywall:
Drywall is newer than 2001
A "rotten egg" smell within house
The back-side of this drywall (not normally visible to the resident) is labeled as "MADE IN CHINA."
The ground wire connected to the green screw is blackened and corroded. This wire should be copper-colored.
Bathroom and other such fixtures are pitted and corroded
Copper coils on the air conditioner unit are blackened and corroded
Copper pipes are blackened
 The U.S. Consumer Product Safety Commission suggests you do the following if you suspect Chinese drywall in your home:
The most important issue is your health and safety. If you are suffering from the health symptoms described as common to the reports of exposure to problem drywall, please consult your physician as soon as possible.
If you experience any of the electrical or fire safety concerns described as common to the reports of exposure to problem drywall, please consult your local gas or electric supplier and a licensed electrician or building inspector as soon as possible.
You should contact your State and local authorities to report your concerns and get direction on any help or resources in your area.
You should also report your concerns to the US CPS Commission using the form at www.cpsc.gov
You should also consider contacting your insurance company and homebuilder to report your concerns.
You should generally watch for the following potential electrical hazards in your home:
Power outages – a circuit breaker which needs resetting frequently without any apparent cause; especially if a ground-fault circuit interrupter (GFCI) or arc fault circuit interrupter (AFCI) trips frequently. Arc-fault circuit interrupters are a special kind of circuit breaker that is designed to detect arcing conditions in the electrical wiring.
Dim/flickering lights – lights dim often without any specific cause, such as the air conditioner or the refrigerator turning on.
Arcs/sparks – bright flashes or showers of sparks anywhere in your electrical system.
Sizzles/buzzes – unusual sounds from electrical system devices.
Overheating – parts of your electrical system, such as switch plates, dimmer switches, receptacle outlet covers, cords and plugs may be warm as a normal consequence of their operation but should not be discolored from heat or painful to touch.
Odors – pungent smells such as strong fumes from overheating plastic or electrical insulation materials.
Electrical shocks – any shock, even a mild tingle.
Multiple symptoms would be a stronger indication of problems.
Lisa Zahner contributed to this report.