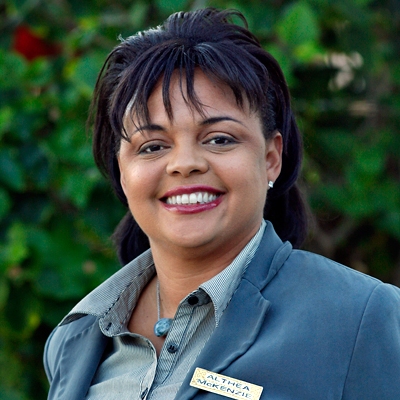 Name: Althea McKenzie Age: 42 How long living in Indian River County: 7 years Place of Birth: (Not answered) Occupation: Professional background includes 25 years in Managerial roles in Operational, Sales Management & Marketing in the Travel & Real Estate Industries. Past President of a not-for-profit corporation & advocacy group. Marital/Family Status: Mother of 3
Please list Civic and Volunteer Leadership Experience including title & position and Organization including dates and locations.
Past President of a not-for-profit corporation & advocacy group Independent Council for the Citizens of Indian River County, Inc.  2007-2010
Current  Member Parent Advisory Group IRCSD  2009 – 2011
Beachland PTA Board Member Community Outreach 2009
Mid summer Night Basketball Program Gifford Florida  2008 – 2009
Healthy Start Coalition Fundraiser Panel 2008
Florida PTA member Osceola Magnet, Beachland and Liberty Magnet 2008
Interim Secretary Gifford Youth Activity Center Board Meeting 2008
Save the Teachers Campaign April 2009
Certified Kids at Hope Volunteer SLC Children Services Coalition 2009 – present
What issues motivated you to run for this office and what do you hope to accomplish during your term?
Primarily, I became a candidate to give the voters of Indian River County a REAL choice, an ordinary but sensible, honest voice.  Someone who has a vested interested and is genuinely concerned with our children's future, preventing waste & improving our educational services.
As a parent and community activist it is imperative to make a difference & offer solutions to improve the quality of life for the youth of our community.  What greater contribution and charge can a person have than to commit to public service with a belief that "All children are capable of success, no exceptions"?  (Kids At Hope) Although we are a good School District there are several improvements that need to be made. There are several challenges ahead as we attempt to reform & improve education.  It is time to move from mediocrity to excellence. School Board Members must have the ability and fortitude to assess & respond to the needs effectively & implement long lasting solutions. This requires foresight, insight, wisdom & most times just some plain common sense. It is time to no longer make decisions as to what is financially best for a few, we need to do a better job at valuing all of our students & delivering the quality educational experiences that they deserve. This is best investment we can make to our community.
The School Board is currently searching for a new Superintendent to replace out-going Dr. Harry La Cava. What qualities would you look for in a viable candidate?
Superintendent must have strong leadership skills, makes education priority one, willing to do the job, not over – delegate his own responsibility to others, must have planning and implementation skills, good decision making skills and a proven track record of improving a school system, have innovation and team building skills, customer oriented "STUDENTS"  willing to make necessary changes to improve school system, able to effectively assess staff and their contributions, be a "walk about" leader,  concerned about improving the quality of education, one who steps up to responsibility, is proactive, values teachers, genuinely concerned for students, communicates effectively with caregivers, community and parents, supports education reform and does not shy away from responsibility and mandates.
Must be fiscally conservative, direct funds to the classroom. Pro-active in a constant and steady review of school improvement. More importantly implement necessary changes in a timely manner. Willing to improve ALL areas – Exceptional Student programs, Adequate Yearly Performance of all sub groups, improve on lack of scholarships (minimal) – improving academically and sports scholarships for higher education based on total of students, participation of higher level education programs such as IB, Dual enrollment and AP for high school students, address the 20-30% drop out rate at 10th grade, number of referrals to alternative school education, improve and support VPK and early education commitments.
Voters will be asked to vote yea or nay on Amendment 8, a constitutional amendment pertaining to class size. What is your stance on Amendment 8 and why do you feel that way?
This county was given $85 Million (per P. Vasquez IRCSD Communications Dept 2002-2010) to prepare for class size reduction, this was provided to build classrooms and adequately hire teachers. The district has failed to meet these requirements, fired 110 teachers in the last 2 years, and had minimal construction or provision of classroom space (as evident of the portable facilities) on each campus.
The amendment is not fully communicated on the ballot, also affects VPK program that has made so many student ready for Kindergarten. It is unfortunate that the State of Florida  continues to not put students first and wants to do the absolute minimum for our future.
I will vote "NO" for this amendment.
Two additional charter schools are asking permission to open in the Indian River County School District. Why do you think charters are interested in the county?  What is your stance on charter schools?  Do you believe they help or hurt the School District as a whole?
The question is why are so many community members interested in charter schools? Is the public schools system failing or not meeting the expectations of parents and educators?
Charter schools are defined differently in each region in the Northern States the definition of "charter" is what we currently call "magnet" schools.
As Indian River County School District continues to fail it Adequate Yearly Progress and is placed on "probation" and eventually correction by the Deptartment of Education, there will eventually be a mandate to make all schools failing a Charter / magnet School.
So do not get confused by rhetoric. The School District should have best practices across the board at all of our schools. There should be no distinction in quality or services (lack of or enhancement), from one school to another and then there would be an outcry for more charter schools.
Editor's Note: A photo will be added later this week. Please check back.