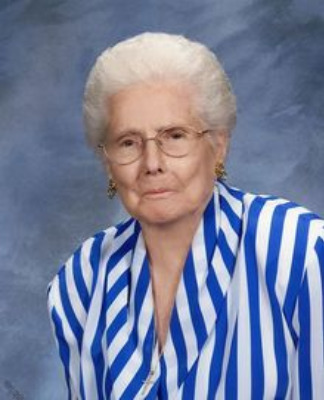 Muriel Hair Leatherman, of Vero Beach, died Aug. 12, 2009, at The Place of Vero Beach in Vero Beach. She was born Nov. 2, 1919, in Atlanta, Ga., but she spent most of her life in Miami.
After graduating from Miami Senior High School, she worked for Southeastern Optical Company. She was a long time member of the Shenandoah Presbyterian Church where she taught Sunday School and weekly Bible classes, and she was a past president of the Women of the Church Circle. She lived in her beloved home in Miami for 63 years before moving to Vero Beach in 2002. In Vero Beach, she was an active member of Westminster Presbyterian Church. She was predeceased by her husband of 45 years, E.B. "Sonny" Leatherman; her sister, Betty Sayre; her son-in-law, Mason "Dave" Simril; and her loving faithful dog, Doc.
Survivors include her four children: E.B. (Debra) Leatherman III, of Humble, Texas, David B. (Elaine) Leatherman, of Woodstock, Ga., Muriel Leatherman Simril, of Miami, and Sally (John) Leatherman Campbell, of Vero Beach; six grandchildren; two great-grandchildren; two great-great-grandchildren; her brother, James R. Hair, of Atlanta, Ga., and sister, Martha H. Stevens, of Sun-City, Ariz.
Graveside Services will be held at Woodlawn Cemetery, 3260 S.W. 8 Street Miami, Florida on Monday, Aug. 17, at 11 a.m.
In lieu of flowers, contributions in Mrs. Leatherman's memory may be made to Westminster Presbyterian Church, 2555 58th Avenue, Vero Beach, Florida 32966.
Arrangements are under the direction of Strunk Funeral Home, Vero Beach.