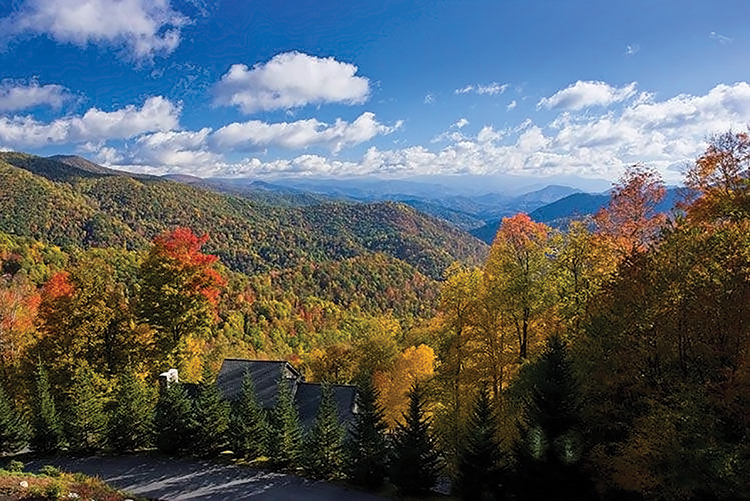 High in the Appalachian rain forest, a nine-hour drive from Sexton Plaza, the mountain resort of Wolf Laurel has been a favorite escape for many of Vero's leading real estate families for more than 50 years.
Mention Wolf Laurel to Steve Schlitt, Linda Gonzalez, Buzz MacWilliam, Kay Brown or Cindy O' Dare and the smiles reflect memories of cool summer getaways and winter ski vacations.
"I was involved from the very beginning," says Brown, broker associate at Premier Estate Properties. "I'd put the kids in the car in the morning and drive straight through, talking to the truckers on my CB radio. My handle was Silver Streaker, and the truckers would let me ride in between two of them so I wouldn't get arrested for speeding in some little southern town!"
"Wolf Laurel is the first place I saw snow," says Schlitt, who with his sister Linda Gonzalez runs Coldwell Banker Paradise. "My father Ed Schlitt and my uncle Frank Schlitt were early investors and we started going up there in the late 1960s when I was about 12, staying in one of the original cabins."
"I was born and raised in Florida and the mountains amazed me," says Gonzalez. "We would go up for 10 days or two weeks at a time. It was such a fun place for us!"
"We'd ski in the winter, too. I'd load my brothers in the car and we'd leave Friday night after school and get up there Saturday morning and ski all day Saturday, Sunday and Monday and drive back on Tuesday."
"I have been going there for 50 years," says MacWilliam, broker at Alex MacWilliam Real Estate, whose father played a key role in saving the resort after it fell on hard times in the 1980s. "I started traveling up there as a teenager in the 1970s and I have spent much of the summer up there this year."
"It is my joy and my meditation," says Premier Estate Properties broker associate O'Dare, who has been going to Wolf Laurel for 20 years and bought her third house there last fall.
"I sit in my rocking chair on the porch with my iPad and close deals while watching deer walk by," she says. "It is the most relaxing place I know."
Developed mostly by a colorful local rancher named Fondren Mitchell along with Vero investors he looped in when he got in financial trouble the way resort developers usually do, the 5,000-acre resort half an hour north of Asheville can lay claim to the highest elevation golf course east of the Rockies.
Its ski slopes got 88 inches of snow last winter, and its central village of historic log cabins – moved from Virginia, Tennessee and other parts of North Carolina – includes one rumored to have been built by American avatar Daniel Boone.
Two of the 24 astronauts who made the trip to the moon, including one of the 12 who walked on the surface, have owned homes, according to Warren Johnson and James Klumpp, Ph.D., who just finished a book-length history of Wolf Laurel, "A Treasure in the Appalachian Sky."
And the authors say they have been told by multiple sources that Elvis Presley tried to buy the mountain in the early days of its development.
As in Vero, the real estate market in Wolf Laurel has taken off since the pandemic, with inventory disappearing and prices rising as people flee big cities and learn to work remotely in places safer and more peaceful than downtown New York City or Chicago.
"Historically, it would take several years for a house to sell, which is not unusual for a remote mountain community," says MacWilliam. Now, houses that are priced right sell in a day or two, according to Camille Yates, an agent with MacWilliam's brokerage who lived on Holly Road in Central Beach for many years and now lives near Asheville.
The average price of a home sold in the community over the past year was $369,605, up from $282,979 in the prior year, according to data provided to Vero Beach 32963 by Yates, who says she has 20 buyers waiting in line for homes in Wolf Laurel and nearby resort areas.
"There were hundreds of homes for sale," in the 750-home community prior to the pandemic, says O'Dare. "Now there are one or two."
O'Dare's partner Richard Boga, broker associate at Premier Estate Properties, bought his first home in Wolf Laurel last October and has since fallen under the mountain's spell.
"I was up there six times between October and May and spent the week between Christmas and New Years in my A-frame with some friends," Boga said. "It started to snow on Christmas Eve and there were 6 inches of fresh powder in the morning!"
Boga recently bought a second home on the mountain – larger, higher up, with two fireplaces
"We call that being 'wolf bit'," says Johnson of the magnetic, almost mystical hold the resort has taken on Boga, who is far from alone in his mountain addiction.
"It is all about the altitude," Boga says of his summer excursions to Wolf Laurel, which starts at 3,500 feet above sea level and goes up to 5,500 feet. "It will be 90 in Vero and feel like 100 when I leave, 80 degrees at the airport in Asheville and 70 at the cabin," he says.
"The Appalachian Trail is only a short walk from my house, and I go hiking most every day. There are lots of waterfalls and swimming holes nearby, along with all the resort activities."
"My son Alex came up with his girlfriend to stay for a week in August," says MacWilliam. "On day five, he said, 'You know what, this is so relaxing, and I am having such a good time, I'm going to stay for another week.'"
"We have the golf club and restaurant, a riding stable, tennis courts, pickleball courts and a heated swimming pool all within five minutes of our house," says MacWilliam.
Like many resort communities, Wolf Laurel has a complex and checkered development history with lots of ups and downs.
Vero came into the picture in 1969 after the first developer ran out of money and Fondren Mitchell and six other investors purchased the debt on the property and began their own efforts. By 1973, Mitchell had bought out most of the other investors and was running Bald Mountain Development Corporation.
In the end, he did more than anyone else to create an awesome resort community, but there were struggles along the way and he had to be rescued repeatedly by Vero friends.
"Fondren was a sport. Fondren was a gambler. He'd gamble on anything. He gambled on Wolf Laurel, and it [nearly] broke him," says Mark Tripson, a grandson of Waldo Sexton who knew Mitchell for many years.
"He came here after the war and he had a jelly factory, Old South Jelly, which he sold to Winn Dixie. With that money he bought his cattle ranch out west of Fellsmere. He had 30,000 acres to begin with and sold off parts of it when he needed money."
The Arab oil embargo hit just as Mitchell was dumping lots of cash into his resort project and then there were several winters when it didn't snow on the mountain, killing business at the ski resort, according to Tripson.
"Fondren would get into financial trouble from time to time," says Gonzalez. "When that happened Dad and others put more money in, buying a bunch of lots."
"He sold lots to just about everybody in town," says Tripson. "It was like little Vero up there in the summertime."
In failing health, Mitchell sold his stake in Wolf Laurel in 1986, but the new owners couldn't make a go of the project and the club went into bankruptcy.
It was then that Buzz MacWilliam's father, who owned a home on the mountain, stepped in to organize residents to take over the club and make it into an equity enterprise.
He also managed to leverage some political connections to get the first liquor license in what had been a dry county to bolster club restaurant profits.
"The others rewarded him for all his hard work by making him Member No. 1 in the club," says MacWilliam.
"My dad served as general manager of the club around that time, helping get things back to normal," says Indian River county commissioner Joe Earman, highlighting another key connection between the resort and Vero Beach.
"My parents had two houses up there and would spend four to five months at Wolf Laurel in the summer," says Earman, who has good memories of taking his family to the mountain to visit his parents and play golf when his kids were young.
Mitchell passed away in one of the old log cabins in 1990 about the time the members took over the club, leaving behind a worthy legacy.
Today the community is owned by the HOA, successor to Bald Mountain Development Corporation. The country club is owned by the members and the ski resort, which had a Swiss owner/operator at one point, is now owned by a local businessman.
Wolf Laurel is located within the massive 135,000-square-mile Appalachian temperate rainforest, which helps account for its abundant flora, fauna and winter snow.
For those who don't fancy the nine-hour drive from Vero, there are flights to Asheville from West Palm Beach and Sanford. From Asheville, it is a half-hour drive to Wolf Laurel.
For those who want to know more about the history and current state of the community, "A Treasure in the Appalachian Sky" will be published this month.
Photos provided