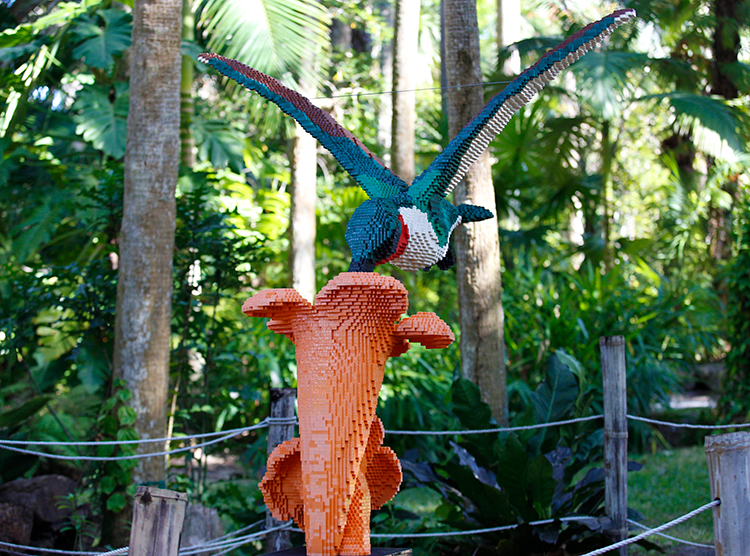 An entire wall of clear drawers filled with thousands of Legos sorted by color and size provided the backdrop for a virtual Zoom conversation with Sean Kenney, the award-winning artist behind the "Nature Connects, Made with LEGO Bricks" exhibition, on display through April 25 at McKee Botanical Garden.
Kenney, from his studio in Amsterdam, shared insights with donors and supporters into the process behind his remarkable sculptures.
"This is the third time that we've hosted Nature Connects, and the third is definitely just as popular as the first and the second," said Christine Hobart, McKee executive director. "We're having great attendance; everyone loves this one."
"I am touched that you enjoy my work so much, but also the fact that the community does too.
"It's really wonderful," said Kenney, before giving a behind-the-scenes peek into their creation.
"I think, as an artist, it's important for me to create something that has a personal message; something that I want to say from my heart," said Kenney.
He explained that the connectivity of Lego pieces has allowed him to illustrate the connections that are found in nature, such as a hummingbird feeding on a trumpet flower, a coral reef amid a biodiverse ocean, and the symbiotic relationship between the zebra and the wildebeest in the Serengeti.
"I try, in all of my work, to create something that's very personal to me," said Kenney, "so that it's something uniquely me, that has my imprint on it."
The sculpture of a mother polar bear and her cubs, for instance, is akin to the relationship he has with his wife and children.
"It's really about the love that a parent has for a kid and doing things together as a family," said Kenney.
His hope is that by "humanizing" the bear as she cares for and raises her young, viewers might better appreciate the relationship between polar bears and what we are doing to the planet.
Kenney stressed that he does not work for the Lego Group, but is rather an independent artist with a staff of artists who create with him. As such, he is limited by what the Lego Group makes; there are no special colors or shapes made especially for him.
"I can't buy anything that they don't also sell in a toy store," said Kenney. Before Lego halted the practice, he was the first person in the world allowed to purchase pieces in bulk. He currently has some 20 million in inventory.
His design process begins with sketches, blueprints and digital schematics, which lets them edit the designs and build digital models before actually connecting physical pieces. The sculptures are hollow, but most have a steel-reinforced bar inside to help them withstand transportation and weather, and industrial solvent is applied to stabilize the connections.
Kenney said his hope is that Nature Connects will help people to have a little more empathy for the natural environment.
"Hopefully, you can look past the shock and awe of the crazy 95,000-piece construct in front of you, to see the subject matter and appreciate it for what it is," said Kenney. "I want you to see these things as alive and that they're there talking to you."
For more information, visit mckeegarden.org.
Photos by Kaila Jones