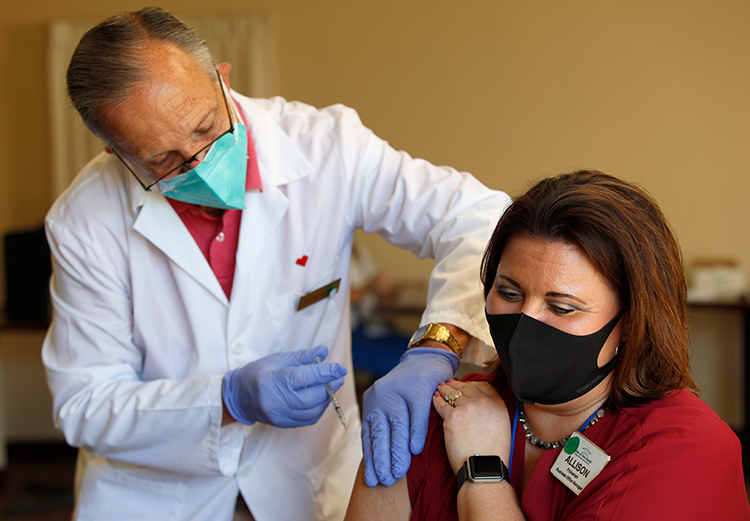 INDIAN RIVER COUNTY — Nearly all residents and staff at Isles of Vero Beach received COVID-19 vaccinations Thursday, giving some a sense of relief amid a pandemic that has caused more than 25,000 deaths statewide.
"We're grateful, especially since it's so hard to get anywhere else," said Isles of Vero Beach Resident Experience Coordinator Elizabeth Monplaisir, 33, of Vero Beach, after getting her vaccine shot. "I don't think other employees (at other assisted living facilities) who are reluctant to the shot understand how important it really is. I think they need more information and training on it."
Isles of Vero Beach – which provides both assisted and independent living for its 200 residents – is among the first senior communities in the nation to get the Pfizer vaccine, officials said. The community, located in the 1700 block of Waterford Drive, Vero Beach, hosted a vaccine clinic Thursday from 11 a.m. to 4 p.m. for residents and employees.
Long-term care facilities were given top-priority for the COVID-19 vaccines. For many, getting the shots at Isles of Vero Beach clinic brought a sense of relief for residents and employees unable to sign up for Florida Department of Health vaccines.
The appointments have been booked to capacity within minutes for the past few weeks.
As of Thursday afternoon, about 180 people total at Isles of Vero Beach were vaccinated. The facility's Executive Director Louis Iannuccilli said about 90 percent of residents received vaccination shots.
"We want the residents to be able to go out and live their best lives, and be healthy while doing so," Iannuccilli said.
Iannuccilli said a majority of the staff also got vaccinated. The staff and residents will receive their second vaccine doses on Feb. 11.
"We're all happy we were able to get it and that it was extended to the staff," said the facility's Business Office Manager Allison Frickanish, 44, of Palm Bay.
For Caren Tondo, getting vaccinated for protection against COVID-19 was not an option – it was a necessity.
Tondo, 63, Sebastian, takes care of her mother, 91-year-old Joyce Webster, a resident at Isles of Vero Beach. Tondo and Webster both received vaccination shots during the vaccine clinic.
"I think it's wonderful. I'm very fortunate I was able to get the shot today," Tondo said. "It takes a lot of worry away. I take care of my mother. If I get (COVID-19), she could possibly get it."
CVS teams distributed the vaccines at Isles of Vero Beach. Those who walk in the building must wear masks, sanitize their hands, complete a health screening and have their temperatures taken.
Then, those who wanted to be vaccinated were taken to a room to get the shot. After getting the Pfizer dose, the individuals were taken to a waiting room, where they were monitored for 15 minutes for any possible severe side effects.
Iannuccilli said there have not been any reports of serious side effects from the vaccine at Isles of Vero Beach. There were no reports of shortages of the vaccine at the facility, he said.
Iannuccilli said the vaccine shots are not mandatory for residents and staff.
"We want to respect their rights and choices," Iannuccilli said.
Photos by Kaila Jones