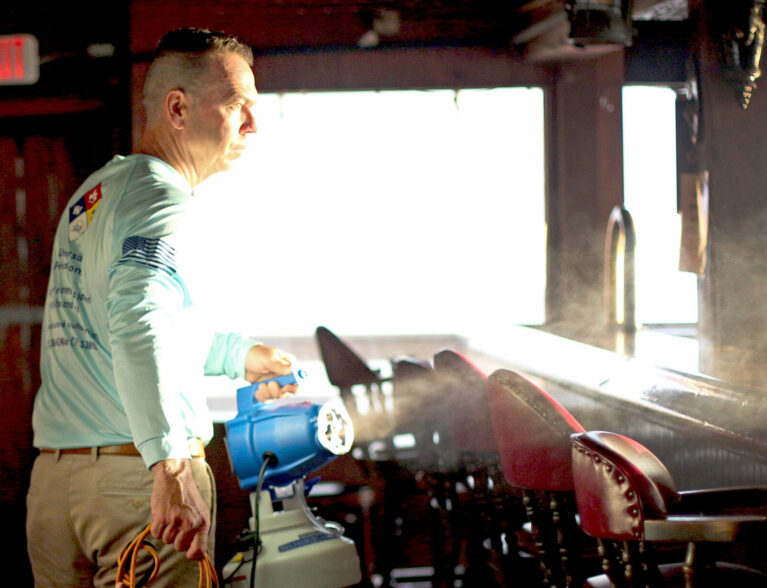 A firefighter and medic familiar with how hospitals and fire stations killed germs in their facilities has launched a successful new business using "electrostatic sanitization" to kill viruses, bacteria and mold in island restaurants and other Vero businesses.
The Ocean Grill, Waldo's and El Sid Taqueria are among his clients, along with mainland businesses, including Vero Prime, a daycare center, a gym and other facilities.
Electrostatic technology introduces a charge into a chemical solution, thereby atomizing the chemical. The electromagnetically charged vapor is then disbursed and uniformly coats surfaces.
"They're using this in hospitals, emergency rooms and fire departments throughout the country already," says Robby Rivas, co-owner of Universal Precautions with David Kiernan.
Rivas explains that most cleaning companies use microbial sprayers, which only coat the area where the spray falls. With electrostatic sprayers, the charged vapor bonds to all surfaces – to the top, beneath and to the sides – virtually 360-degree coverage.
The germ-killing product Rivas is using, Vital Oxide, is an EPA-approved chemical that reduces food-borne bacteria by 99.999 percent. In addition to killing the novel coronavirus, it also eliminates Legionnaires' disease, salmonella, E. coli, Bordetella, staph, listeria, strep, swine flu, influenza, HIV, and hepatitis A, B and C.
According to the Centers for Disease Control and Prevention website, "The virus that causes COVID-19 can be killed if you use the right products. Reducing the risk of exposure to COVID-19 by cleaning and disinfection is an important part of reopening public spaces."
Entrepreneurial spirit and keeping people safe are nothing new to Rivas, an engineer, medic and part-time lifeguard who owns Proof Cocktail & Catering and is a former Dancing with Vero Stars Mirror Ball trophy winner.
"I hate to see my little town this way," says Rivas, who is a Vero native.
Rivas adds that he hopes his new business doesn't last. "I want this business to go away as quickly as possible. I want to run myself out of business. I'd love to say, I've had the business for three months and now nobody is calling, and everybody is back to normal. That's my goal."
Currently, Universal Precautions provides weekly sanitization service to about 20 clients with more coming onboard each week.
"People call who just want a one-time spray and then end up calling us back and wanting to do a contract for extended services," Rivas says.
"We want to give people peace of mind in an unsure time. That's all I'm trying to create at this point. Peace of mind," says Rivas.
Photos by Kaila Jones