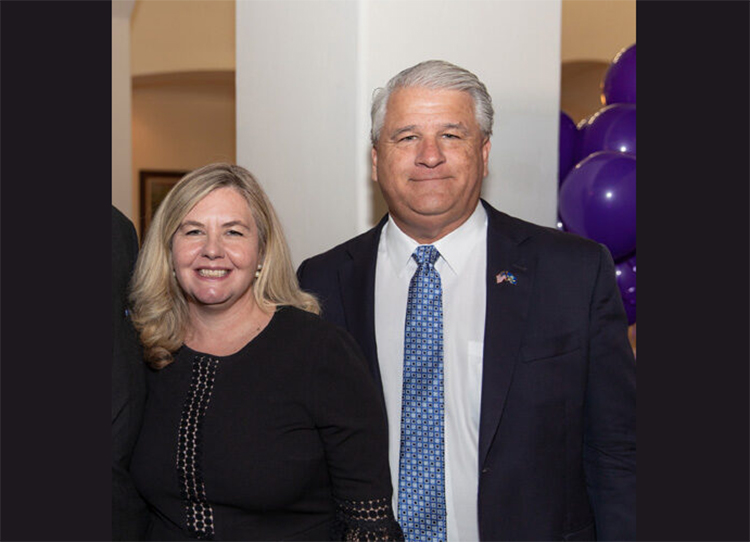 Indian River County School Board Chairwoman Laura Zorc lost her bid for a second term in the Aug. 18 elections by the same margin her husband Tim lost his race for a third term as a county commissioner.
Retired school administrator Peggy Jones received 23,086 votes, or 60.37 percent, in the non-partisan School Board election in District 3, according to the Supervisor of Elections web site.
Laura Zorc, who was serving her second year as chairwoman, received 15,153 votes, or 39.63 percent, records show.
In Commission District 3, Tim Zorc fared a fraction better than his wife with 15,378 votes, or 39.85 percent, against retired Fire Rescue Capt. Joe Earman, who received 23,216 votes, or 60.15 percent.
The Zorc's dual 60-40 defeats were attributed to several factors, including opposition to one household holding two powerful elected offices, Tim Zorc's commission vote to reject a mandatory mask law and a political attack mailer targeting Tim Zorc.
"Peggy was the benefactor to the smear campaign against our good name and reputation," Laura Zorc said in an email response to a series of questions.
"It's disgusting what this group did to destroy us," Laura Zorc said. "We are good people and no one deserves the dirty smear campaign played to win a local community election."
A Tallahassee-based political action committee, Voters Response, sent a mailer to thousands of county voters claiming: "Having Developer Tim Zorc on the Indian River County Commission is like having the fox guarding the hen house."
The mailer features an unflattering photo of Tim Zorc lifted from a family Facebook post.
Voter Response received $41,200 in contributions from the Indian River Fire PAC between July 21 and August 7, records show. Voter Response spends most of its money on mailings; records don't say on what races but Earman had strong support among firefighters.
Earman denied having anything to do with the Voter Response mailing and said other PACs sent out negative mailers on behalf of the Zorcs.
"I think they're now becoming sore losers," Earman said. "It was over a 20 percent margin for my race. As far as I know, signs on the side of the road and fliers in the mail do not win or lose campaigns."
Earman said he believes having a county commissioner and school board member in the same household created the potential for a conflict of interests.
A prime example was the School Board's May 20 lawsuit to force the County Commission to set a referendum on a school tax extension on Aug. 18, instead of Nov. 3, Earman said. Tim Zorc initially voted for the Nov. 3 referendum date but reversed himself the following week.
"I know in my household, my wife wouldn't run for political office," Earman said. "Or, if she was running, I certainly wouldn't run for political office. We wouldn't do that. We just don't think it's a good combination."
Voters clearly wanted new blood in District 3, Earman said.
"I think the voters were tired of it and it was time for a change," Earman said. "Both races were definitely a sign for change for both seats, but why the numbers were pretty close in each, I don't know."
The Zorc's collectively earned $95,066 in 2019 from their elected offices, state records show. They also had say over two government budgets totaling $707 million for the 2020-2021 fiscal years.
In addition, Tim Zorc was considered the swing vote in a 3-2 commission vote on July 20 to reject a controversial proposal to require county residents to wear facial coverings in public.
"I think that decision upset a lot of people," said Lamarre Notargiacomo, a Republican Party activist and grandmother of three school children. "I don't know if that had anything to do with his loss, or not, but I know that is a very hot topic."
In the other School Board race on the August 18 ballot, former Indian River Shores Mayor Brian Barefoot easily won the open seat in District 5.
Barefoot received 24,061 votes, or 64.66 percent, according to unofficial results. He will replace Tiffany Justice, who opted not to seek re-election.
Alla Kramer, a former teacher whose two children who went through county schools, received 15,153 votes. She is the wife of county Republican Executive Committee Chairman Jay Kramer.
Alla Kramer did not return several phone messages and emails in the past week seeking comment on the election results.
Barefoot, a retired college president and Wall Street investment banker, outspent Alla Kramer by a three-to-one margin during the campaign, records show.
Barefoot raised $84,400, mostly from himself and other Barrier Island homeowners, records show. He spent $61,051, mainly on newspaper, website and Facebook advertisements.
Barefoot's business credentials set him apart from typical school board candidates, who tend to be educators and/or parents of students like Jones, Kramer and Laura Zorc.
Jones, who worked her way up from classroom teacher to Sebastian River High School principal and then district administrator, benefitted from her stature as a longtime community leader, Barefoot said.
"What I was surprised about was the percentage of votes Peggy got versus Laura – 60-40," Barefoot said. "I thought it would be very close either way."
Laura Zorc may have been hurt by her political rivalry with Justice and their verbal jousting during meetings, Barefoot said. Voters typically don't like political infighting.
The attack mailing against Tim Zorc and his mask vote also appear to have taken a toll on the couple's political fortunes, Barefoot said.
"I think Tim's vote on the mask situation hurt him," Barefoot said. "There's a group of people that are big on civil liberties and individual rights and they're very vocal. But the vast majority of folks, while not wanting to wear a mask, understand why it's important to do it, not necessarily for yourself, but for others."
The similarity of the Zorcs' election results could not be ignored, Barefoot said.
"You either voted for both of them or neither of them," Barefoot said. "I don't know what that means, but I thought it was interesting. It's too bad. I think Laura worked hard. She had a lot of obstacles."
Laura Zorc presided over the School Board's management of the COVID-19 pandemic, the reorganization of the district staff, the hiring of new Schools Superintendent David Moore and the departure of the previous superintendent, Mark Rendell.
"I did a great job as a board member and I have no regrets," Laura Zorc said in an email Friday (August 21).
Jones did not return several phone messages and emails in the past week seeking comment on the election results.