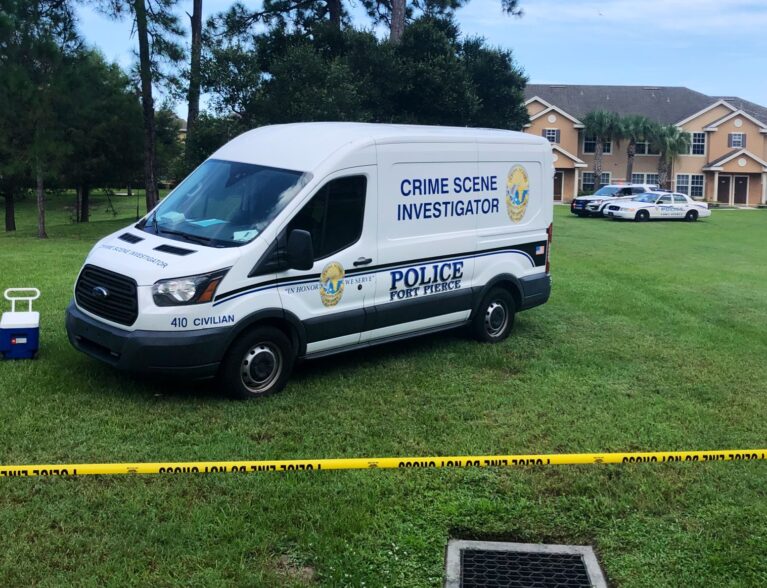 FORT PIERCE — Police are searching for two suspects who they said fatally shot a Vero Beach man at an apartment complex Thursday and stole his black backpack.
"Witnesses heard five-to-seven shots," Fort Pierce Police Public Information Officer Mike Jachles said about the incident that happened at 11:11 a.m. "We don't know why the victim was there."
Officers identified the victim as 19-year-old Jason W. Dillard, of the 3900 block of 45th Place, Vero Beach. Dillard was taken to the hospital where he was pronounced dead, Jachles said.
Jachles could not release details on what was inside Dillard's bag because the incident remains an active investigation. It was unclear if the fatal shooting stemmed from a robbery.
Police looking for two men in connection with a fatal shooting of a 19-year-old Vero Beach man just after 11 a.m. It occurred at Madison Cay Apartments at 1655 N. 29 St. Anyone with information should call Treasure Coast Crime Stoppers at 800-273-TIPS (8477). pic.twitter.com/l8QHLqhlwB

— Fort Pierce Police Department (@FortPiercePD) August 6, 2020
Jachles said Dillard had been approached or confronted by two suspects before the deadly incident.
Police said the shooting happened at the Madison Cay Apartments in the 1600 block of North 29th Street. The complex is located north of Pioneer Park and near several churches.
Officers arrived and found Dillard lying near a pond behind the complex. Dillard was taken by ambulance to Lawnwood Regional Medical Center & Heart Institute in Fort Pierce, where he died from his injuries, Jachles said.
Police spoke with witnesses and collected several shell casings at the scene. Officers also recovered Dillard's cell phone, which will be placed into evidence.
Officers described the first suspect as a dark-skinned black man with a short afro, about 6 feet tall and weighing 160 pounds. The man was last seen wearing a dark or camouflage shirt, Jachles said.
An age range for the first suspect was not available. A description for the second suspect was also not available.
Anyone with additional information should contact police Detective Fary Feliu at 772-979-1443. Callers can also contact Treasure Coast Crime Stoppers at 1-800-273-TIPS or tcwatch.org.
Those who contact Crime Stoppers can remain anonymous and possibly be eligible for a cash reward. The shooting remains under investigation.
Photos provided by Fort Pierce Police Department