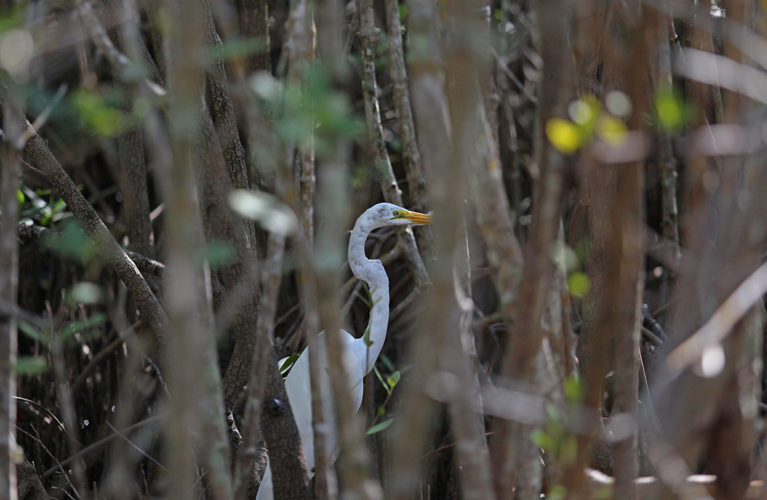 Time to get out and soothe your pent-up soul. For the gentlest of ways to wake up your slumber, there's no place better than the Environmental Learning Center. The ELC has recently opened its 64-acre lagoon island campus, which is entirely outdoors. You are invited to come stroll the area, do some birding, have brisk walks in a natural setting, take photos and be inspired by nature by immersing yourself in it. The ELC, founded in 1988 by members of the Pelican Island Audubon Society, has a mission to "educate, inspire and empower all people to be active stewards of the environment." Before going, be sure to visit them online at DiscoverELC.org. Their website provides some great educational videos, all short and fun. You can also find a "Bird Bingo" card you can download, a link to an osprey cam and plenty of child-friendly webpages as well. The Environmental Learning Center is on the Wabasso Island off the 510 Causeway, at 225 Live Oak Dr., Vero Beach. Hours are 8 a.m. to 4 p.m. Mondays through Saturdays, and 9 a.m. to 4 p.m. Sundays. Admission fees have been waived during the COVID-19 pandemic as the center's "gift to the community." All visitors must wear a mask and practice social distancing. No pets allowed. However, there is a donation box at the Center. Call 772-589-5050 or visit DiscoverELC.org.
While some businesses and organizations are slowing cranking open, the Vero Beach Museum of Art will remain closed until June 1. However, the museum staff has arranged a way for you to join them in a virtual way: its "Pick Flick," an online film program. Each Tuesday, virtual visitors are invited to view a film, then engage in conversation about it via social media. Already, six films have been featured. This week, it's "Beyond the Visible: Hilma af Klint." The 2019 German film, presented mostly in English, explores the abstract artist Hilma af Klint, who, in 1906 began a groundbreaking series of paintings. The film suggests that Klint went mostly forgotten while her work deeply informed the works of male artists such as Kandinsky, Miro, Mondrian and more. In 2018, the Guggenheim Museum in New York City had a major retrospective of her work. The film, directed by Halina Dyrschka, runs 93 minutes. A.O. Scott of the New York Times wrote that the film "bristles with the excitement of discovery and also with the impatience that recognition has taken so long. It refreshes the eyes and the mind." You can view it through May 19 at https://kinonow.com/hilma-af-klint-vero-beach-museum-of-art. The cost to stream it is $12. A portion of each ticket goes to the VBMA's online programming. Share comments on the film by going to social media and using hashtags #VBMA, #VBMAFlickPick or #artfromhome. For more information, visit VBMuseum.org/flick-picks.
For some real fun, try horseback riding on the beach. That activity is back on the schedule at Fredrick Douglass Park Memorial Park, 3500 South A1A, Fort Pierce. This is a rarity in Florida, and the Treasure Coast has it. Moreover, you don't need to own a horse. You can book beach horse rides at Tours on Horseback, which has reopened. The cost begins at $45. Call 772-468-0101 or 772-519-0237. The meet-up is at 3600 S. Ocean Dr. on Hutchinson Island at the Frederick Douglass Memorial Park. If you want to bring your own horse to the beach, you need a permit to ride. And since you haven't been able to use your permit, the county is giving a 41-day extension. More info at StLucieCo.gov. Moreover, the St. Lucie County Fairgrounds and Equestrian Center will host an open ride inside the 35,000-square-foot Adams Arena 6 p.m. to 9 p.m. Wednesday, May 20 at 15601 W. Midway Road, Fort Pierce. $10. Call 772-462-6413 or 772-462-5214.
The National Theatre Live free streamings have been so popular that the British organization has extended its scheduling. Currently, Inua Ellams' highly touted play "Barber Shop Chronicles" is streaming free through Thursday, May 14 on the National Theatre Live's YouTube channel.