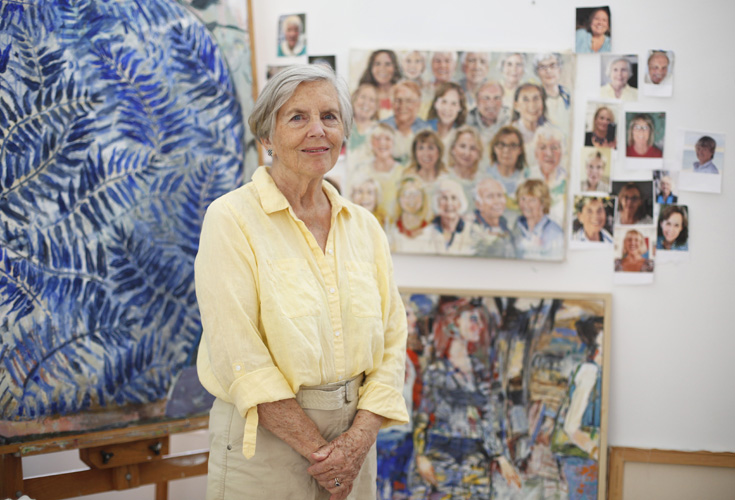 During this time of sheltering in place, do you miss bumping into your Vero Beach friends while you are out and about? Are you tired of "Liking" of all the COVID-19 memes that blizzard your favorite social media site?
Perhaps you've seen the one of four identical images of an artist serenely dabbing at a portrait on the easel before her. Each image bears a different caption: the first reads "Artist"; then "Artist social distancing," next "Artist in quarantine," and finally "Artist after quarantine."
It's true that artists spend a lot of time in their studios working every day, forgetting about everything but the work before them.
Sometimes, however, even the most dedicated artist will look up and wonder, "Where is everybody?"
Such was the case with Janvier (Jan) Miller. She and husband Gustaf (Gus) Miller are professional artists from New England who have spent their winters in Vero for the past 35 years. They know a lot of people here and a lot of people know them, and their work. Both are painters; Gus also sculpts in ceramic and other materials, and Jan makes pottery.
So it was natural that Miller would turn to her trusty easel when she started missing her friends.
"I was floundering around for what to paint next. I felt isolated, and I thought that painting them could be a way to keep connected with my friends," she says.
Titled "Friends in Isolation," the artwork is a 24-inch-high by 20-inch-wide acrylic painting on which she has rendered portrait heads of 21 of the Millers' friends.
"I started it two weeks ago," says Miller. "I asked everyone for a head and shoulders photo. I asked for selfies, but I didn't get many of those."
Most people sent photos snapped by somebody else, except for Vero Beach Museum of Art Director Emerita Lucinda Gedeon. "Lucinda told me she didn't know how to do a selfie, but she learned how to do it and mailed me one," Miller marvels.
The first person to send in a snapshot was painter Janet Tribus. Her head was the first one Miller painted; it is located in the lower left corner of the canvas, the first of five in the bottom row.
"I painted them as they came in. I went to the right. Then the second row from the bottom was the second wave of responses, and so on."
The others in that row are Jill Kerwick, Sharon Theobald, George Pillorgé and Debbie Pillorgé.
Kerwick is a digital collage artist and painter; Sharon Theobald is a professional art appraiser; George Pillorgé is a pastel painter; and wife Debbie is an oboist.
Gus Miller chuckles as he contemplates Debbie Pillorgé's portrait.
"She looks so cute there," he says, and indeed, Miller has portrayed her with tousled hair and a shy grin.
Painted in acrylic, the portraits are spot-on likenesses. They have a spontaneous quality that sometimes borders on not-quite-finished looking, but that's the way Miller likes them, explaining, "I wanted to keep it – oh, what's the word?"
"Keep it kind of sketchy," says Gus, who adds, "It was far more sketchy before she kept working on it."
George Pillorgé is the jauntiest looking head in the row. Pictured with his shoulders to our right, his face, with its dashing smile, is turned toward us, and his gaze meets ours.
"George has his sailor shirt on. He was a sailor," Jan explains.
"He spent a number of years on a sailboat. It was called 'The Puffin,'" says Gus, to which Jan adds, "Yes. He and Debbie lived on the boat."
The second row from the bottom features, from left to right, painters Wendy Douglas, Suzy Mellott and Madeline Long. Next to Long is ceramic artist Glenda Taylor, and Toni Hamner.
Hamner is a longtime docent at the Vero Beach Museum of Art.
"One of the best docents," says Gus, to which Jan adds, "Big time!"
The third row up features painter and ceramicist Sharon Sexton; Sean Sexton, painter, poet, ceramicist, cattle rancher, et al.; painter and writer Emily Tremml; abstract expressionist painter and collagist Tim Sanchez; and abstract painter Susan Bouma. All are smiling.
"One of the things that's been a challenge about this is painting the teeth, because most of them are smiling in their photo," says Jan.
What's so hard about painting teeth?
"It's just not something you want to think about a whole lot," she says.
Gus explains, "Well, you've got the cracks between the teeth. You start painting the individual teeth, and they start looking pretty bad."
They turn to each other and both laugh.
"When I got up to the top row, I realized I had to fit a few more in, so I did a fourth row. To fill it up, I added Gus and me. I hadn't originally thought of putting us in the picture."
That row also contains Shotsi LaJoie, painter, psychotherapist and Vero Beach Rowing Club booster; abstract painter Rita Barone; Lucinda Gedeon; Gus Miller; Jan Miller and (full disclosure) this writer.
The tightly arranged rows of heads on a relatively small canvas are not a good advertisement for social distancing. But if you think of making friends as a sort of viral process, it seems that every friendship the Millers have made has created a vector for other friendships.
For example, the Millers' friends Deb Gooch (not pictured in the "Isolation" painting) and Tim Sanchez are art teachers who introduced the Millers to painters who had studied with them, including Rita Barone and Susan Bouma.
Before moving to the Riomar neighborhood, the Millers were Emily Tremml's neighbors on the river side of the barrier island. Tremml, who founded and manages Ocean Drive's Palm House Gallery, introduced the Millers to some of the painters who have shared the gallery with her over the years, including Wendy Douglas, Madeline Long, Suzy Mellott and Janet Tribus.
The initial Petri dish for the Millers' friendships was the Vero Beach Museum of Art (at that time called the Center for the Arts), where the couple, new in town, first signed up for a ceramics class in 1985.
Glenda Taylor was the instructor for the class, which was also attended by Sharon and Sean Sexton, and Shotsi LaJoie. It was also where they met Toni Hamner, who has been a volunteer with the museum from the start. Because of those contacts, friendship with the Millers has run rampant through the community.
"My painting has become a virtual community of friends in isolation," says Miller.
"It's been fun to look at each of my friends carefully, look at their mouths and noses and eyes and eyebrows. Once they are painted in, they become a real presence in the studio. And they are all here with me. Maybe I will turn the painting against the wall if they get to be too much of a presence!"