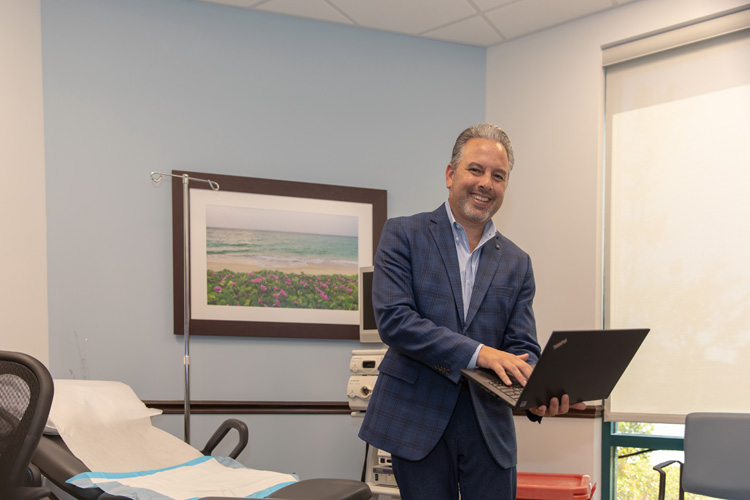 This is not a COVID-19 story.
Except it is. In a way.
It's really a telemedicine story about how two of Vero Beach's most respected physicians, urologist Dr. Hugo Davila and hematologist Dr. Raul Storey-Rojas, have hopped onto the video care bandwagon as Florida's statewide 'stay at home' order continues in effect.
Both Davila and Storey-Rojas point to a relative newcomer in the telemedicine field known as Doxy.me as an outstanding platform for remote healthcare.
Why should these two local physicians single out Doxy.me when Becker's Hospital Review says there are hundreds of tele-health companies out there and also points out that "according to the American Hospital Association, 76 percent of hospitals in the U.S. connect with one tele-health service or another"?
One factor might be that unlike some of its competitors, according to Techradar.com, Doxy.me is fully HIPAA compliant. That is, it guards your personal health information with encrypted point-to-point connections that keep data secure.
But for most of us an even better reason for considering Doxy.me comes from a non-medical source, Yahoo Finance, which reports Doxy.me was designed to be easy and simple to use and that "there is no software to download or install and patients don't need to create accounts."
Softwareadvice.com adds that Doxy.me is also available for use with both Apple and Android phones.
Both Davila and Storey-Rojas are so impressed with Doxy.me that they asked that we conduct this interview on it. A simple click on an emailed invitation and another to access my computer's video camera and the three of us were chatting 'face-to-face' via Doxy.me.
"You don't have to get out of your home to see a specialist," Davila says. "We can see you. We can see if you are short of breath or if you're coughing. We can see a lot by having this interview with a video camera. But of course, we cannot do a physical exam. So if I am doing this interview and I think I need to do a physical exam because I'm concerned [about what I'm seeing], I'm going to tell you, 'Look, you're going to have to come to my office because I'm concerned about A, B and C."
Storey-Rojas points out that certain conditions can be spotted on video. "If you're telling me 'Hey, doctor. I have a lesion here,' you can show it to me through the camera."
"There's a screening process that our staff is trained to do," Davila explains, "so if the patient has some emergency and they need to be seen, of course we will see them in the office," but both Davila and Storey-Rojas agree that video visits are a major plus, especially while Florida remains under a statewide 'stay at home' order.
Using Doxy.me, these physicians say, they are even able to show CT scans and other test results to the patient without them having to schedule an office appointment.
It is, both doctors agree, less stressful.
Or, as Storey-Rojas puts it, "just going to a doctor's office is stress. It's a hassle. So now patients can be at peace at home and relaxed," and still speak with their doctor or get their test results even faster than if they needed to schedule another office visit.
Davila shared one stress relief story about a patient who was anxiously awaiting the results of his prostate cancer biopsy.
Using Doxy.me, Davila was able to, face-to-face via video, tell that patient, "I have good news for you. We did the prostate biopsy and it came back negative, so this is what we're doing next," and the patient, he says, "was very, very happy."
Meanwhile, in this time of social distancing, Davila points out that Doxy.me has helped dramatically reduce the number of patients in his office waiting area.
They have been able to maintain the social distancing recommendations for patients there and only see the patients who need to be seen in the office for patient care, infusions, imaging and other procedures.
And, for the record, unlike many of its competitors, Doxy.me does have a Medicare billing code so feel free to ask about how that works when you contact the office.
Dr. Raul Storey-Rojas is with Florida Cancer Specialists and Research Institute. Dr. Hugo Davila is with Florida Healthcare Specialists. Both have offices at 3730 7th Terrance, Suite 101 in Vero Beach and can be reached at 772-567-2332.