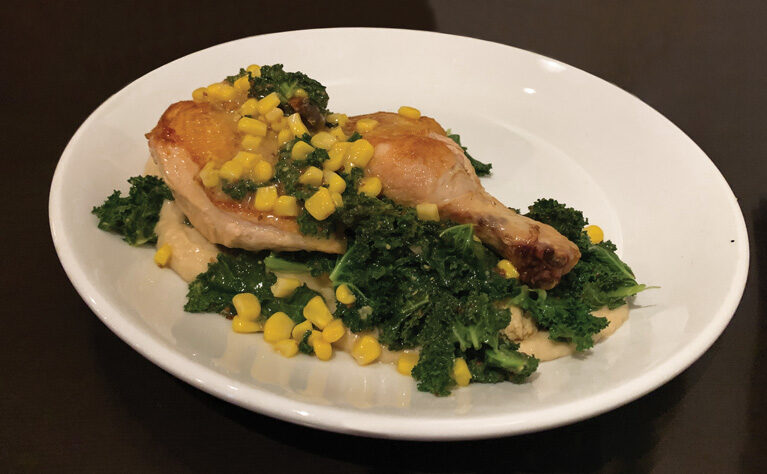 It's been a long time since we dined at the restaurant in Vero's old downtown that at one time housed Villa Nova, and before that the Quilted Giraffe. We liked those places. But in recent years, the space has gone through several not-so-great incarnations – occupied by the likes of Grumpy's Burgers and Off the Rail – and when it changed hands again 10 months ago, we did not rush to visit.
But recently, we've heard some encouraging reports about the Edgewood Eatery. So last Thursday, we visited for a belated First Bites.
Headline news: Located on 21st Street across from the Pocahontas Park shuffleboard courts, the Edgewood Eatery is the creation of Denise Terrance-Campion and her son, Zach, who trained as a chef at Johnson & Wales University. Their New American cuisine emphasizes "locally sourced (ingredients), distinctively crafted." The menu is brief, and the specials change often.
Look & Feel: From the street, the Edgewood doesn't look like much of an upgrade on its recent predecessors. But inside, the space is the most attractive it has been in eons – totally remodeled and very open. With white-washed brick walls and light gray paneling, it has a sleek, modern appearance. The restaurant really seems too classy to be called an "Eatery."
Food: Last Thursday evening, we sampled two "starters," one "shareable," two "fillers" and a dessert.
I ordered one of the evening's specials, a vegetable bisque with crispy chickpeas ($10) and my husband ordered the caramelized onion bisque with grilled cheese croutons ($9). The bisques were tasty (though my husband's came to the table luke warm and had to be stuck in the microwave).
For a second course, we shared the crispy Brussels sprouts ($9). The flash fried sprouts, served with a tzatziki sauce, were delicious – and even better after I further augmented them with some squeezed lemon.
For entrees, I ordered the Amish chicken ($25) and my husband had the pan-seared branzino special ($29). My husband's branzino was a nice piece of fish served over a medley of zucchini, a sundried tomato relish and shaved fennel.
As for the Amish chicken, I liked the approach – the chicken breast and leg basically bake along with a buttermilk biscuit – and they were served with wilted kale and kernels of corn. But while the dish was tasty, the chicken did not wind up as moist and flavorful as it should have.
For dessert, we shared an order of a very good warm bread pudding ($7).
Drink: Edgewood has an impressive selection of beers, as well as an assortment of wines available either by the bottle or glass. I tried a pinot noir which was very light, and subsequently switched to an excellent primitivo. My husband enjoyed a French chardonnay.
Service: Our server Tracey was knowledgeable and attentive.
Prices: The Edgewood appetizers ranged from $9 for the soups to $14 for salmon rillettes. The shareables ranged up to $13 for the Mediterranean flatbread. Entrees start at $16 for a burger (which got raves from a friend) up to $29 for the branzino.
Also of note: In addition to dinner five nights a week, the Edgewood Eatery serves lunch.
Initial impressions: Chef Zach, who clearly has talent, has put together a very creative menu that offers more than the usual number of choices for vegans or diners looking for a gluten-free meal. We certainly wish him a bright future.
I welcome your comments, and encourage you to send feedback to me at tina@verobeach32963.com.
The reviewer dines anonymously at restaurants at the expense of Vero Beach 32963.
Edgewood Eatery
Hours: 12 a.m. to 9 p.m., Tuesday to Saturday
Beverages: Beer & Wine
Address: 1327 21st Street, Vero Beach
Phone: 772-217-3156