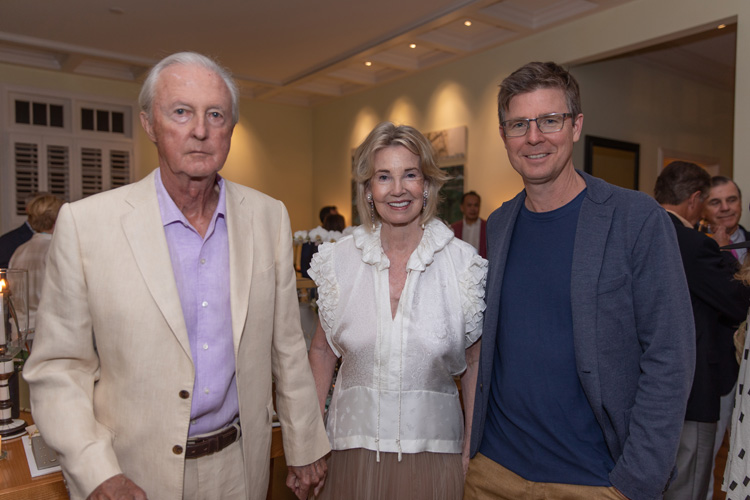 Sponsors and beneficiary representatives of the Windsor Charity Polo Cup were feted at a Player Reception the Friday evening preceding the main event, at the stunning Weston Guest House at Windsor. The reception was sponsored by Windsor residents Manley and Mary Johnson, Tim and Mary Mullan, and Chris and Maria Whittle. The Polo Cup was presented by PNC Bank.
Guests mingled over cocktails and hors d'oeuvres, while enjoying the jazzy sounds of Ella & the Bossa Beat, perusing the sparkling Paul Morelli Collection, offered by Belle Cose at the Village Shops, and purchasing raffle tickets in hopes of winning fabulous prizes, including a lovely gold equestrian necklace donated by Morelli and Belle Cose.
The evening was a great way for sponsors to meet some of the polo players, thank Hilary and Galen Weston for their gracious hospitality, and learn a little more about this year's beneficiaries.
While philanthropy through polo matches began almost immediately after the Westons founded Windsor in 1989, the Windsor Charitable Foundation's signature fundraising event in its current format as the biannual Windsor Charity Polo Cup was founded in 2012.
"We wanted to do a polo event for the Humane Society," explained the delightful Maria Whittle, event co-founder with Mary Mullan. "It's been an experience, and now more and more people are getting involved. It's just gotten so exciting. Everybody is looking forward to it, and the charities are great."
This year, the event was supporting the Boys and Girls Clubs of Indian River County, Literacy Services of Indian River County, and the Humane Society of Vero Beach and Indian River County, and Whittle had high praise for the organizations' executive directors, Elizabeth Thomason, Jessica Schmitt and Kate Meghji, respectively.
Whittle explained that the charities are ultimately chosen by the Windsor Charitable Foundation, with input from Windsor residents.
"So many of us are involved in various organizations throughout Indian River County; I'm involved with the Humane Society," said Whittle. "We ask our charities to submit an application."
The Alzheimer and Parkinson Association was a beneficiary in 2016 and 2018, along with a different national charity each of those years.
"But the Foundation chose to go with all local charities from now on," said Whittle. "I agree with them, because I think it makes more sense. There are so many wonderful organizations here that, I think, really suffer when the rest of us go north or wherever we go for the summer, and they're left to really do an awful lot of work. I think now that it's all focused locally, it's going to make a bigger difference."
For more information visit windsorcharitypolocup.com.
Photos by: Denise Ritchie
Click HERE to see more or buy photos