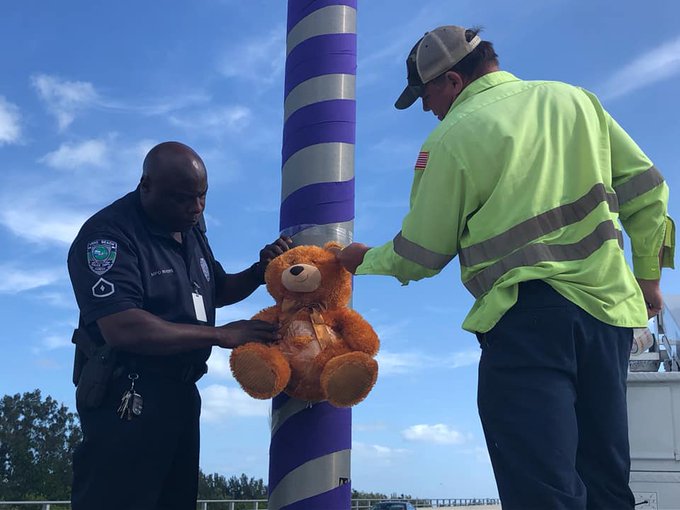 VERO BEACH — The last patient seriously hurt in a Jan. 15 two-vehicle wreck that killed 20-year-old rower Grace Rett, has been released from an area hospital, officials said.
Anne Comcowich, 19, of Hopkinton, MA., was released from Lawnwood Regional Medical Center & Heart Institute in Fort Pierce Monday morning, hospital and college officials said. Comcowich was transported from Lawnwood to a hospital in Massachusetts to continue her treatment, College of the Holy Cross officials said.
"I am so grateful for the kindness, warmth, and love shown to all of us affected by the accident. We've been uplifted in countless ways by the gestures of so many whose gracious acts will never be forgotten, though their identities are unknown to us," Comcowich, a sophomore at College of the Holy Cross, said in a statement. "I came to the hospital broken, but I left as one, not only physically but with the community."
Comcowich was listed in critical condition for several days after the crash. Her condition began to slowly regenerate late last week, improving from critical to serious, and from serious to good, hospital Public Relations Director Tiffany Woods said.
College of the Holy Cross President Philip L. Boroughs thanked everyone across the country for offering their help, support and prayers to the college.
"We cannot adequately express our gratitude to the many people in Florida, Massachusetts, and across the country who have offered their help and support in this difficult time. I have been so moved by the people of Vero Beach, who adopted the Holy Cross community as their own," Boroughs said in a statement.
"The outpouring of aid from our alumni community has once again reminded us of the deep bonds connecting our Holy Cross family. We have also been blessed by countless acts of selflessness and kindness, from the first responders and witnesses of the crash who helped pull our students to safety, to the medical professionals in Florida who have gone above and beyond to care for the injured, and the hundreds of friends and strangers who have written or called with offers of support, time, money and prayer. All we can say is thank you."
The fatal wreck that killed Rett caused an outpouring of shock and grief in Vero Beach and at College of the Holy Cross in Worcester, Massachusetts. Police said the team coach and van driver, Patrick Joseph Diggins, 55, Massachusetts, failed to yield the right of way to an oncoming red Dodge pickup, driven by 55-year-old Ronald Edward Wolf, of Fort Pierce.
No charges have been filed in the case.
Rett, a sophomore from Uxbridge, Massachusetts, was recently highlighted in news outlets for breaking the world record for indoor rowing. Rett rowed 383,000 meters, or 237 miles, in 62 hours on an indoor rowing machine.
To remember Rett's life, along with her achievement, Vero Fitness will host a 62-hour indoor-rowing fundraiser. The event will start at 6 a.m. Feb. 6 and continue through 7 p.m. Feb. 9.
Deadly crash
The fatal crash occurred at 7:30 a.m. Jan. 15 at the Merrill P. Barber Bridge and Indian River Boulevard. College of the Holy Cross women's rowing team – Holy Cross Crusaders – were in town for a week for winter training, Vero Beach police said.
Two team vans carrying the rowers were traveling on southbound Indian River Boulevard headed to practice with Vero Beach Rowing Club on the Indian River Lagoon. Rett was a right front-seat passenger in the first van, driven by Diggins.
Instead of yielding to oncoming traffic, Diggins made a left turn to get to the bridge, police said. The lights on both sides of the street were green, but there was not a green arrow for Diggins to turn left, witnesses told police.
A red Dodge pickup, driven Wolf, struck the front side of the van. The impact left both vehicles with heavy damage.
Rett was taken to a hospital, where she was pronounced dead. The crash seriously injured eight others, including Diggins, Wolf, and six rowing team members, who were all taken to the trauma center in Fort Pierce.
Since the crash, freshman Bianca McIver, 20, of Scarsdale, N.Y., and Maggie O'Leary, 18 and daughter of Waterbury, CT., Mayor Neil O'Leary, have been released from the hospital. Sophomore Hannah Strom, 19, of Marion, MA., junior Paige Cohen, 20, of Dunwoody, GA., and senior Maegan Moriarty, 22, of Old Lyme, CT., have also been released, college officials said.
Diggins and Wolf were released from the hospital last week. Police continue to investigate the crash.