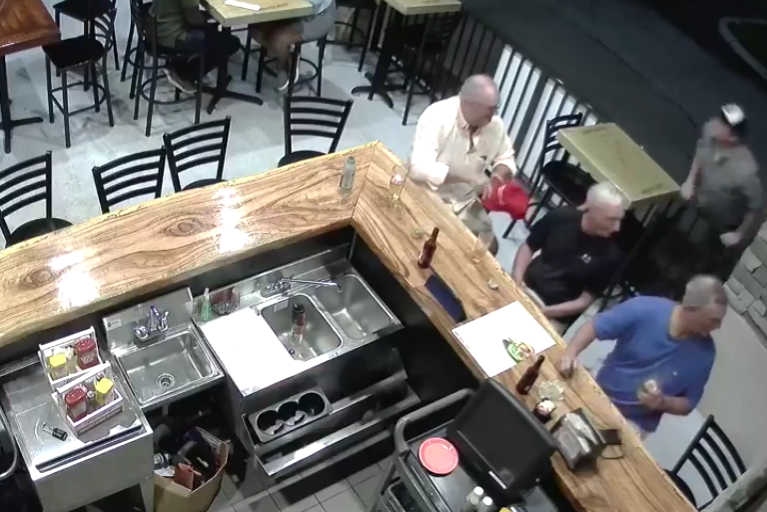 INDIAN RIVER COUNTY — Newly released surveillance footage captures the moment a man slapped a 'Make America Great Again' hat another patron was wearing before spitting on him at a restaurant.
The man behind the attack, identified as Matthias Ajple, told the patron, "You should go back to Russia you (expletive) communist," reports show. After being arrested, Ajple told deputies he was trying to protect law enforcement and that "Trump supporters are communist and racist," officials said.
The footage at Hurricane Grill & Wings was released Wednesday by the Indian River County Sheriff's Office. The video shows the patron, a man, talking to two other people at the bar before Ajple walked by, slapped the brim of his hat and kept walking.
Seconds later, Ajple leaned over a rail, spit toward the man and left the area.
Video provided by Indian River County Sheriff's Office
Man spits on patron wearing 'MAGA' hat

Video surveillance footage from Hurricane Grill & Wings in Vero Beach shows a man spitting on a patron wearing a 'MAGA' hat on Oct. 25. The man, identifed as Matthias Ajple, was charged with battery.

Posted by Nick Samuel on Wednesday, November 6, 2019
The iconic red hat, popularized by President Donald Trump, has been seen as a polarizing symbol for those opposing Trump. There have been several reports of similar attacks nationwide.
Deputies arrested Ajple, of the 4100 block of Chardonnay Place, Vero Beach, on a charge of battery. Ajple was released Oct. 26 from the Indian River County Jail on $500 bond.
Indian River County deputies responded to a disturbance about 8 p.m. Oct. 25 at Hurricane Grill, located in the 900 block of 15th Place. The man told deputies he was sitting at the bar when Ajple approached him and threatened him.
After the attack, Ajple left the restaurant with his wife, deputies said. Deputies reviewed surveillance footage before going to Ajple's home to arrest him.
Ajple told deputies, "I don't even care that I'm going to jail; this is actually exciting. Plus, I have more time on this earth than he does anyway, he probably feels so good about himself."
Deputies arrested Ajple and took him to the county jail. Ajple has an arraignment at 8:30 a.m. Nov. 26, court records show.