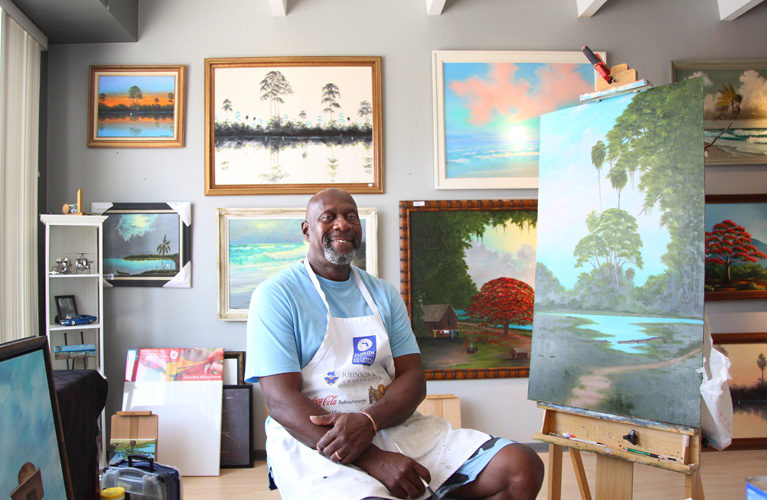 It's rare, especially in Florida, to find anyone who hasn't heard about the Highwaymen – a group of self-taught, black artists from Wabasso and Fort Pierce who, in the mid-1950s, began painting vivid Florida landscapes and taking their artwork on the road, selling their pieces door-to-door or out of the backs of their cars. Their story has been the basis of numerous books and even a proposed movie.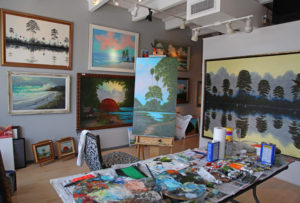 But life in those early days was extremely difficult and, according to artist Ray McLendon, son of original Highwaymen artist Roy McLendon, much of the popular storyline's reality has become blurred with fantasy.
"My father Roy was a migrant worker, and as a family we would move north with him as he followed the migrant circuit," says McLendon, adding that the family always returned to their home in Wabasso each winter during citrus season.
"He'd pick citrus in Florida, peaches in Georgia, potatoes in Virginia, tomatoes in New Jersey and apples in Pennsylvania. I was actually born in Bridgetown, N.J., because that's where we were on the circuit. I was what they call a season baby, born wherever the migrant worker was working," McLendon said. "The hardest part about being raised in that environment was moving from school to school and not really being able to establish a network of friends."
Harold Newton lived across the street from the family in Wabasso, and began mentoring Roy, who was inspired by Newton's vibrantly beautiful landscape art. The two soon commenced painting together. McLendon says that for a long time, his father juggled his art with his picking, but eventually became a painter full-time.
Although 26 artists have been identified as Highwaymen, and have been inducted into the Florida Artists Hall of Fame as such, Newton and McLendon are named as "original" Highwaymen, along with Alfred Hair, James Gibson, Livingston Roberts, Mary Ann Carroll (the only woman), Willie Daniels and Al Black.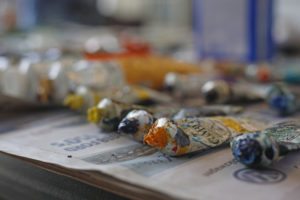 "One thing for sure is that if you were a child of one of the Highwaymen painters, you were always raised by your mother," says McLendon. "Our dads were always on the road as traveling salesmen. It wasn't a new concept at all. In the '60s everything was sold door-to-door – vacuums, encyclopedias, household supplies, pots and pans – it's just the way it was."
He says that especially for black artists, if they were going to sell their paintings they had to knock on doors or set up a display on the side of the road. They were not welcomed to sell in local galleries, and in Vero Beach during that time, blacks had to be off the streets by sundown.
"They sold their painting for $25 to $50 each," says McLendon. "Those paintings today and most of the newer Highwaymen paintings command thousands a piece from enthusiasts and collectors."
McLendon says he was always artistically inclined, able to draw and sketch, but he had little interest, preferring to play basketball in high school and college, where he attained a degree in social work from Kutztown University in Pennsylvania. When he did pick up a brush, he preferred to paint abstracts.
"My father always said I'd sell more abstract paintings than landscapes, but of course that is not the case in Florida, where Highwaymen paintings are the rage," says McLendon.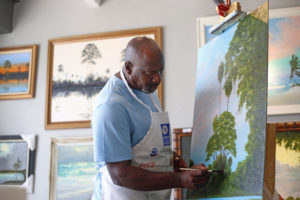 Once out of college, he was employed as a social worker in mental hospitals and health centers throughout Florida, but because the salaries were low, he always took on a second job as well.
After decades of working in the social service sector, McLendon decided to open a seafood market in Fort Pierce called R&B Crab Shack, and was its hands-on owner for 25 years. He painted on the side and would go to art shows with his father and brother, Roy McLendon Jr., by then a renowned second-generation Highwaymen artist, in his spare time.
"I actually started painting again on a bet with my father," McLendon says with a chuckle. "By this time, everyone wanted to be a Highwaymen-like painter and there were some terrible impersonators."
He recalls that at one show, a woman had a booth where she was selling some particularly horrible Highwaymen-style landscapes.
"I told my dad that even I could paint better than (that) and that she would never sell those. He bet me she would, and that if she did I would have to start painting again. To my disbelief, she sold them and I picked up the paintbrush again."
McLendon invested in canvases, paints and brushes, but after feeling that his work was mediocre at best, he quit. A few months later, since he already had all the supplies, he decided to try again.
This time he says he prayed to the Lord for some of the talent bestowed on his father and brother. He also sought advice and guidance from his brother before embarking on his third career as a full-time artist. About five years ago McLendon turned over his restaurant to his son and opened his own working studio on 14th Avenue in Vero Beach – the Florida Highwaymen Landscape Art Gallery.
"I love being independent and self-employed, which is why I've traveled the paths I've chosen through life," says McLendon. "I love painting now and I paint without looking at a photo or sketching it out; it's finally second nature to me."
When not in his studio, McLendon travels about Florida displaying and selling his work at high-end art shows.
"I do about 12 shows a year; they are all held between October and April and that's when I have to make the sales," says McLendon, adding that during summer he often assists his seven children with home projects.
"Life is all about balance and painting simply makes me happy. I love bringing color and life to a canvas with a brilliant Florida sunsets or bold Poinciana trees," says McLendon.
"The vibrant color found in Florida landscape is the signature of any Highwayman painting. Capturing and preserving the beauty of Florida is our goal. But, even with the Highwaymen name recognition, making a living as an artist is still a challenge. If there is one thing that I would encourage people to do, it would be to purchase directly from the artist and not through a broker or promoter. That way the artist gets the entire amount of the sale and can put food on the table."
To tell the "true, inside story" of the Highwaymen movement – one that is notably different than the sensationalized story currently told – McLendon is writing a book he's calling "Fame without Fortune."
"It may ruffle a few feathers, but it is the grass-roots story of the movement's infancy back in the mid-'50s, when my dad and Harold Newton started painting and selling their work. They are the two original Highwaymen. I am more than proud of my heritage and truly honored to be carrying on the tradition."