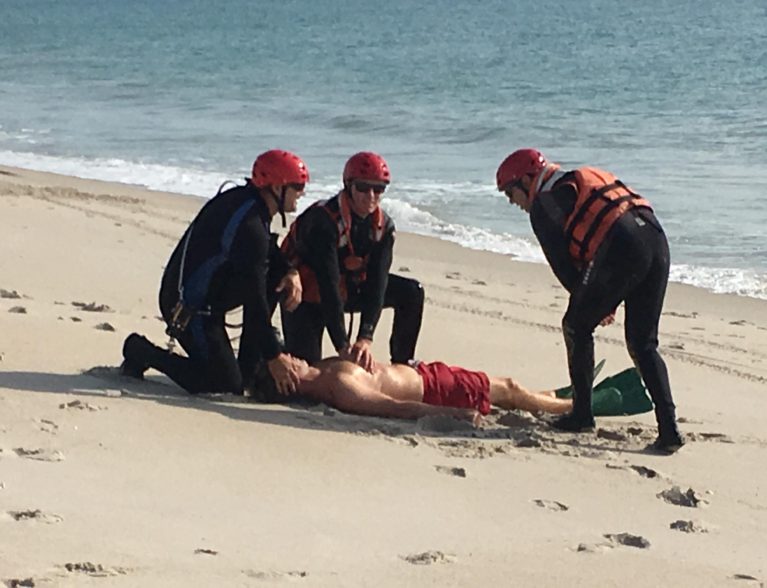 INDIAN RIVER COUNTY — Erik Toomsoo was cleaning up debris from Hurricane Irma in 2017 near a beach parking lot when he saw Vero Beach police drive up and race to the sand.
Toomsoo learned a man was swimming with his girlfriend about 100 yards offshore of South Beach, which was closed, when he was swept away by currents and went underneath the water. Toomsoo said he and about six other lifeguards quickly raced to the site and jumped in the ocean without equipment to find the man, later identified as 32-year-old Johnnie Thomas.
"It takes 20 to 60 seconds to drown," said Toomsoo, president of the Vero Beach Lifeguard Association. "When people are drowning, it's a silent process. They are too weak to yell."
Tuesday, several agencies participated in a mock missing swimmer exercise from 8 a.m. to 10 a.m. at South Beach Park to train how to respond in such cases. The joint training helps different agencies work together smoothly and eliminates confusion when a real emergency arises, officials said.
Thomas' case sparked the need for the joint training exercise.
Thomas' disappearance launched a multi-agency search including Vero Beach Police Department, Indian River County Fire Rescue, the U.S. Coast Guard and a sheriff's helicopter. On Sept. 15, 2017, a passerby located Thomas, formerly of Vero Beach, whose body washed ashore about a half-mile north of where he was last seen.
"The family was distraught. I felt bad for them," Toomsoo said. "It was not a good day."
Toomsoo hopes to prevent drowning cases like Thomas' with more joint training exercises for missing swimmers.
The agencies who participated in Tuesday's exercise were Indian River County Fire Rescue, Indian River County Sheriff's Office, Indian River Shores Public Safety Department, U.S. Coast Guard, Florida Fish and Wildlife Conservation Commission, City of Vero Beach lifeguards and county lifeguards.
"To see the different agencies in the same place, face to face; conversations are had and ideas are exchanged," Vero Beach Councilwoman Laura Moss said. "I commend Erik Toomsoo for his leadership in organizing this event. It took more than four months to organize this. It's in the interest of public safety."
The training involved two scenarios: a swimmer in distress and another who went missing. Several lifeguards swam 25 yards out into the ocean and rescued the swimmer in distress. The fire rescue dive team 'recovered' the missing swimmer, placed him in the back of an all-terrain vehicle and began pumping his chest for live-saving efforts.
"It's good for people to see how agencies train together," Indian River County Fire Rescue Battalion Chief Kyle Kofke said. "We need to do them more often. We try to do them annually, but it varies."
*Click the audio icon in the lower right hand corner for sound.
Several agencies participated in a joint training exercise held Tuesday morning at South Beach Park. The agencies participated in scenarios involving a missing swimmer and a swimmer in distress. The joint training helps different agencies work together smoothly and eliminates confusion when a real emergency arises. #VeroNews

Posted by Nick Samuel on Tuesday, July 9, 2019
Kofke said this is the first time a joint training exercise on a large scale has been held at South Beach Park.
The mock training comes during a busy time of the year when many families vacation in Vero Beach and visit beaches, officials said. The city's three beaches – Humiston Park, South Beach Park and Jaycee Park – broke the May attendance record for 2019, when the beaches saw 88,280 visitors, according to a VBLA report.
The city also extended its beach hours from 9 a.m. to 7 p.m. The extra hours were put in place to prevent drowning deaths when lifeguards are not present, which is what happened in the case of 17-year-old Vero Beach High School football player Jonathan Threewitts, of Vero Beach.
Threewitts died in March 2015 while swimming with friends in the ocean near Jaycee Park, officials said. His body washed ashore a few days later near the beach.
The deaths of Threewitts and Thomas shocked the community. Thomas was the last missing swimmer case the city has seen, Toomsoo said.
Toomsoo said fatigue, rip currents and panic are some reasons why people drown. It's almost impossible to tell people to not panic, Toomsoo said.
Lifeguards train everyday to be prepared for emergency situations, Toomsoo said. Some of the training includes medical procedures and rescue and diving techniques.
Vero Beach has 19 lifeguards while the county has 14 lifeguards, Toomsoo said. There are two lifeguards stationed at each of the four guarded beaches in the county.
Beach goers should swim in protected areas and watch their children especially around the water. Residents should also read the beach signs near the lifeguard stations and know what the flag colors mean, officials said.
"A lifeguard is a first responder," Toomsoo said. "You here 'lifeguard help,' we've got to assess the situation very quickly. We go from 0 to 100."
Photos by Nick Samuel