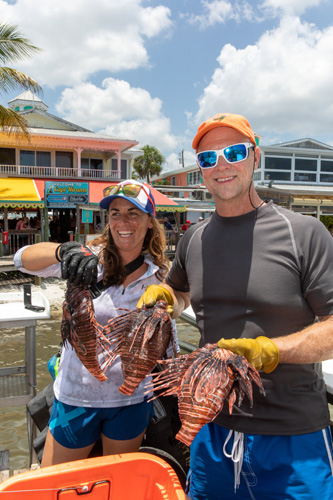 They're invasive and destructive, but as the crowds that descended on Capt. Hiram's for the fourth annual Sebastian Lionfish Fest recently discovered, lionfish sure are tasty. Proceeds from the event benefited Coastal Connections Inc., whose mission is "to protect our coastal habitats through education and connecting people with the environment."
The Lionfish Fest featured two teams of anglers competing in the Lionfish Tournament and harvesting 201 of the harmful fish, which have no known predators. Teams were light this year due to a couple of conflicting marine events. The Alpha Dog team came out on top, harvesting 139 fish, and Sea Bauchery brought in 62.
On Sunday afternoon at Capt. Hiram's Sand Bar, attendees tasted an assortment of creative lionfish dishes (the fish had been purchased from a commercial supplier) prepared by local chefs in a Lionfish Cook-off, before selecting the winner.
Mobay Grill won the Feast on the Beast cook-off with a flavorsome jerk lionfish served over spinach mashed potatoes with a mango relish. Other competitors were Chelsea's Market, serving torched lionfish atop local citrus sticky rice with avocado and Sirach crema; The Wave at Costa d'Este served blue corn lionfish street tacos with mango habanero sauce; Indian River Estates presented a soba noodle salad with seared lionfish, wasabi aioli and microgreens; Blackfins at Capt. Hiram's offered a salt and pepper lionfish with julienne scallion and jalapeno; and Ono Luau offered a lionfish poke atop a Hawaiian taro chip.
"We're eating destructive fishes and making delicious dishes out of them. As a conservation effort, it's a new twist," said Kendra Cope, president and founder of Coastal Connections, and the coastal resources manager for Indian River County. "This event was started by the county and was passed off to Coastal Connections as a partnership with the county. Every year we get bigger and bigger, because people are learning in our community to come together, remove lionfish and celebrate our new modern way of conservation."
Cope stressed that the spiny lionfish are not poisonous, explaining "they have venomous spines, but they're not dangerous to consume. And that is what we kind of treasure about our event here."
The hope is that the overall winner is our coastal ecosystems, as the public becomes more educated about the importance of removing the voracious lionfish from our waterways. Attendees learned from local nonprofit and governmental organizations about the ways conservationists hope to stop the non-native lionfish from obliterating native species, and were educated on ways to safely fish for and remove the toxic spines of lionfish, while coming up with ideas to whip up their own culinary fare featuring the fish.
Photos by: Denise Ritchie
Click HERE to see more or buy photos