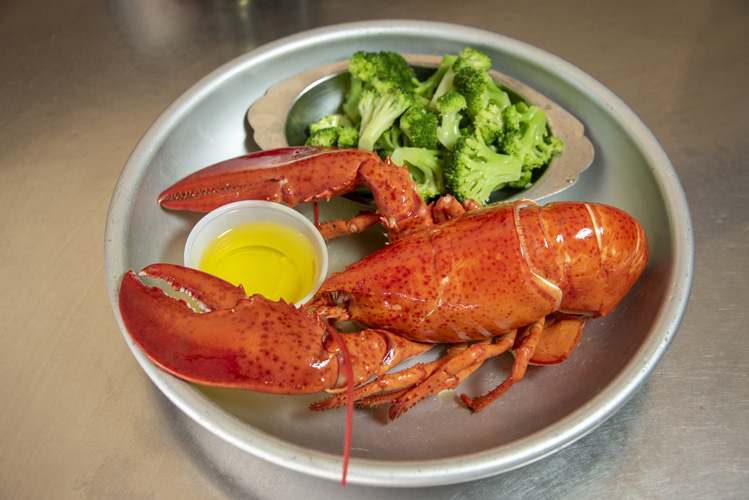 For me, summer is synonymous with lobster.
I'm not talking about those clawless crustaceans that divers will be pulling out of our local waters in another few weeks. Those are good eating, but in my book, they aren't true lobster.
I'm talking about the "Homarus Americanus" – the real deal with the hard shells and giant claws, prized for their tender meat and sweet flavor.
These are what lure millions of visitors each summer to restaurants along the coast of Maine. Alas, this year, I am not going to make it north for the Maine Lobster Festival – a five-day extravaganza held the end of July.
But I had my own mini-festival last week at the New England Eatery in Melbourne Beach.
This extremely casual eatery is now in its third decade of providing refugees from New England with the seafood dishes they crave. When we arrived shortly before 6 p.m. on a weeknight, I was happy to see on the chalkboard that a pound-and-a-quarter lobstah was being featured for $25.95.
For starters on this visit, we (of course) ordered the New England clam chowder ($4.95), which my husband rates one of the very best in this area.
Then for entrées, I had them bring on the lobster and my husband chose another Nor'East favorite, the whole belly clams ($22.95). Both were accompanied by a choice of sides.
The clams were even more wonderful on this visit than usual. Fried nice and crispy, these beauties are absolutely the best around, and the portion is large enough to satisfy even the hungriest New Englander.
My lobster, which my server offered to crack for me (this is a skill that separates the New Englanders from the Florida natives), also totally lived up to expectations. I extracted every morsel of buttery lobster meat. This should be a good summer for Maine lobster.
If you are not of a mind to tackle a whole lobster, the New England Eatery also offers the area's best lobster roll.
The classic lobstah roll, as true aficionados know, consists of steamed lobster meat (claws and knuckles), tossed sparingly in mayonnaise with a bit of diced celery for a little crunch, a dash of lemon, and a buttered split-top hot dog bun that has been toasted until the sides are golden brown.
The last couple of times we have ordered it at the New England, the bun has been perfect and the plentiful bite-sized lobster chunks sweet and savory.
Another favorite of mine at the New England Eatery is the broiled Nantucket trio, which consists of a very nice flaky filet of cod, sea scallops and shrimp, topped with buttery garlic bread crumbs, and served with a side of steamed veggies.
In many years of visiting this restaurant, we have never been disappointed. If you are craving a down east seafood fix with no early prospect of making it to New England, this is the place to go.
I welcome your comments, and encourage you to send feedback to me at tina@verobeach32963.com .
The reviewer dines anonymously at restaurants at the expense of Vero Beach 32963.
New England Eatery & Pub
Hours: Sunday to Wednesday, 11 a.m. to 9 p.m.; Thursday to Saturday, 11 a.m. to 10 p.m.
Beverages: Full Bar
Address: 5670 S. Highway A1A, Melbourne Beach
Phone: 321-723-6080
Click HERE to see more or buy photos