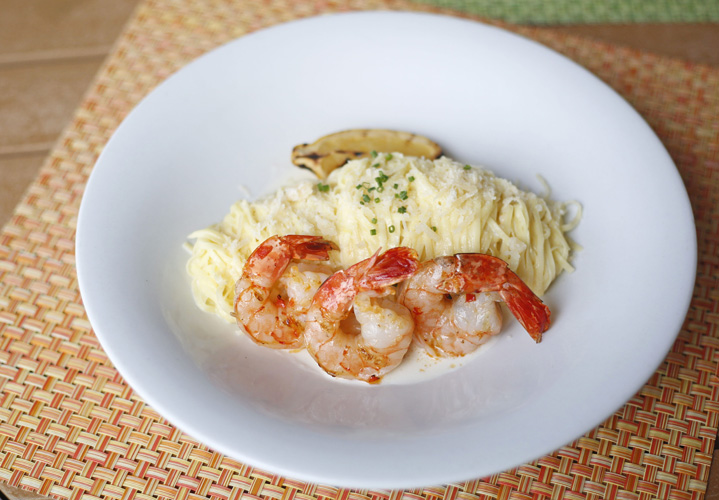 When Citrus finally reopened three months ago, almost a year after a devastating kitchen fire, it was besieged by Vero diners eager to be among the first to try it in its new incarnation.
Before the fire, this popular dining spot overlooking the sea at Humiston Park had been regarded as one of the Vero's finest. And during the lengthy restoration, Chef Scott Varricchio had been dropping hints of changes, so many were eager to see what Chef Scott had wrought.
We decided to hold off reviewing it during this end-of-season rush. Instead, we followed with interest the reactions of readers on their return to a restaurant they had loved. Many were extremely positive, but some lamented the disappearance from the menu of favorite entrées, and quite a few diners griped about portion size.
So a couple of weeks ago, with the town a bit less crowded, we visited Citrus to see what was happening for ourselves.
Seated at a nice table for two in a dining room with new windows that gave it a more open, spacious feel, we decided to share three appetizers before ordering entrées. To complement these, we ordered a couple of glasses of Sonoma Cutrer chardonnay.
Our first starter was a Belgian endive salad. It consisted of thin slices of endive, topped by gorgonzola cheese and a creamy sherry-Dijon vinaigrette. A wonderful, light salad to start the meal.
The second appetizer was one Chef Scott called "compressed yogurt." It started with compressed yogurt – which has a cheese-like consistency – topped by whole grains, wild rice, dried raisins, cranberries and apricots, and then finished in a fig and vanilla. There was a lot going on with this dish. I frankly did not know quite what to make of it.
The third appetizer was a lovely piece of yellowfin tuna. Seared rare, the tuna had been dusted with scichimi, a Japanese dried spice seasoning, and it was served with a ponzu-peanut soba noodle salad. Very tasty.
For entrees I decided to have the local yellowtail snapper ($36) and my husband went for the sea scallops ($32).
My dish consisted of three beautiful snapper filets, pan-roasted, presented atop chilled lemon capellini with baby heirloom tomatoes and a lemon-thyme vinaigrette. This dish was perfect for a steamy Vero evening. I loved the cold lemon pasta.
My husband's scallops, pan-seared perfectly, were served alongside a smokehouse bacon risotto with sweet buttered corn. A great summer entrée.
We found the portions more than adequate, comparable to what you would expect in fine restaurants in New York, Chicago or Europe. You're not likely to leave groaning about having eaten too much, but this is not an all-you-can-eat buffet. By the time we finished our entrées, we were not able to even contemplate one of the Citrus' wonderful desserts.
While a few of the more creative plates at the moment have something of an Asian influence, most of the menu continues to consist of Mediterranean-inspired dishes, and some old favorites missing at the reopening have been restored.
We've always enjoyed trying Chef Varricchio's latest creations. He is arguably Vero's most adventuresome chef. But if you are not up for adventure, stick with the tried and true seafood and beef items (and don't forget the truffle fries)! You will find that Citrus is not just back – but better than ever.
I welcome your comments, and encourage you to send feedback to me at tina@verobeach32963.com.
The reviewer dines anonymously at restaurants at the expense of Vero Beach 32963.
Citrus
Hours: Daily from 5 p.m., Also open for lunch
Adult Beverages: Full Bar
Address: 1050 Easter Lily Lane
Phone: 772-234-4114