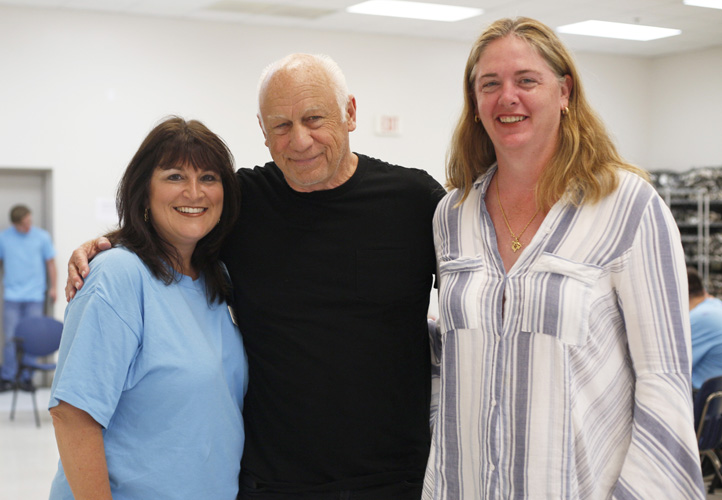 An extraordinary opportunity for young adults with developmental disabilities was recently presented to them by filmmaker Joey Travolta at a two-week Inclusions Short Film Camp, which ran from May 28 through June 7 at The Arc of Indian River County.
For a group often excluded from activities, just the name was enough to garner excitement among the 50 students, ages 14 to 21, thrilled at the chance to take part.
Bringing it here was a collaborative effort of the Florida Division of Vocational Rehabilitation (VR), ServiceSource, Options for All and The Arc of IRC, each of which strives to provide special needs individuals with the skills needed to attain employment and a degree of independence.
Prior to becoming an actor, director and filmmaker, Joey Travolta (John Travolta's elder brother) earned a degree in special education.
"I was always for the underdog, even growing up," said Travolta. "My father was the one who instilled that in me. He was the kindest, most inclusive person, and that was the gift he gave me."
In 2007 he founded Inclusion Films, teaching filmmaking to the developmentally disabled in seven production studios in California. Additionally, he takes short film camps to organizations throughout the United States.
Travolta said he has five editors on the autism spectrum working for him in California, where programs run year-round, and three former campers now work for him. He brought a staff of 13 to Florida; four are California students, who got to apply what they've learned.
"Tina (Hurzik, vice president at ServiceSource) and I have been talking about it for the better part of two-plus years, just trying to figure out how to bring it here; this is the first camp he's done in Florida (with VR students)," said Heather Dales, CEO of The Arc IRC. "The students who are here are all levels of unique abilities. It's been quite the experience."
Hurzik and Travolta first met three years ago at a symposium at Florida Atlantic University.
"She stalked me," said Travolta with a laugh. "I was going to the parking lot and this woman's running after me – 'Hey, we need to get the camp here in Florida.' So that's how it all started."
He explained that everything that goes into filmmaking goes into everyday life. More than just acting and directing, students learn skills such as camera work, post-production, sound mixing, effects and editing.
"There are so many job opportunities. Especially with editing, where the work takes concentration and it's kind of tedious, but they like that repetitiveness," said Travolta.
"They may not necessarily go into filmmaking, but they're gaining work skills. They learned a little bit of everything," said Hurzik, adding they also learn interview skills, problem-solving, teamwork and decision making.
"Another key component is they're learning self-esteem," said Dales. "It's been a fabulous experience. It gives them a lot of opportunities they would not typically have."
Once back in California, Travolta will finalize the film and give each student their own DVD.
"The hope is to have Joey come back in a few months and then we'll do a red-carpet event for the community and the parents and the kids," said Hurzik.
She said the last day was bittersweet; students happy for the experience, but sad to be leaving. "They just feel so happy here and accepted and they feel like they're leaving here as actors and actresses."
"It's been a gift for him to be able to do this," said Jennifer Truxell, whose 17-year-old son Brendan attended the camp. Truxell said Brendan is a high functioning autistic who loves entertainment; even before he could converse, he would quote things from cartoons.
"From a mother's point of view, it's sometimes hard finding people who understand him, or any child with disabilities," said Truxell. "But here it's been open arms. They see the beauty in them that not many people may see."
Photos by: Kaila Jones
Click HERE to see more or buy photos