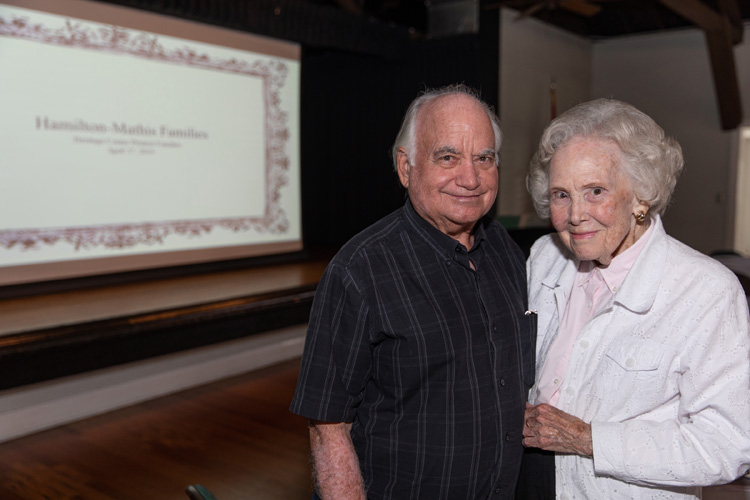 Descendants of the Hamilton and Mathis families chatted and reminisced about decades of lineage as they mingled with well-wishers who had gathered to celebrate the accomplishments of their ancestors and subsequent generations during the 20th annual Pioneer Dinner at the Heritage Center.
When family matriarch Lydia Hamilton-Mathis traveled down to our area in 1906 with her family, they did so by wagon. In search of a better life, her father Edward Hamilton was relocating the household, which included 18-year-old Lydia, her brothers and sisters, her aunt and uncle and their children, from North Florida. It took the family 30 days to complete the 300-mile journey, which was beset by storms, wild animals and sickness.
Once here, the family sheltered in tents and lived off the land and the water; with everyone from children to elders working in the fields growing and harvesting green beans, guavas and tomatoes on what is today John's Island.
Initially, launches were used to transport people and produce up and down the river until, in 1925, the Quay Dock Bridge was built, which allowed families to drive directly to the mainland. At the Quay Dock Depot, produce was transferred to trains for delivery throughout the state.
It was during this time that Lydia helped care for the ailing wife of another early pioneer, Melvin Mathis. When his wife passed, Melvin fell in love with and married Lydia, uniting the two families. Lydia would raise his three boys and their own eight children. The family was raised with a strong sense of community, where Melvin was a respected elder in the Indian River Primitive Baptist Church and a successful farmer.
Eventually, hurricanes and soil depletion made farming more difficult, so in 1932 the families moved to the mainland where the citrus industry was booming.
Lydia's brother Jessie, known as JJP, helped transform the area through politics, serving for 22 years as a County Commissioner, and developed the first modern subdivision called Winter Beach, "where the sunshine spends winter."
For the past 113 years, the legacy of that love of land, family and community has been passed down through eight generations of the Hamilton-Mathis family. Public service runs through their veins, with four generations having served Indian River County in various governmental positions.
Edward W. Hamilton was the second Winter Beach Bridge tender and his son JJP Hamilton was County Commissioner. Third-generation Eugene F. Hamilton was superintendent of the Road and Bridge Department for 31 years and fourth-generation Edward Hamilton has been employed by the Road and Bridge Department for 35 years.
"Having our family honored as a pioneer family is such an honor," said Billy Harp, grandson of Lydia Hamilton and the clan's spokesman. "To be able to share our family history is a pleasure. I think these events are so informative and we have so much to learn from the early settlers."
The Pioneer Dinner is the signature fundraiser for Vero Heritage, Inc., which oversees the operation and preservation of the Heritage Center and its adjacent Citrus Museum.
"It's fitting to hold it in this historic building," said Heather Stapleton, executive director. "This building is all about celebrating history, creating new memories and holding memorable events. The Hamilton-Mathis family has done an incredible job of chronicling their history through photographs and memoirs, and they are some of the best story-tellers we've met."
Photos by: Denise Ritchie
Click HERE to see more or buy photos