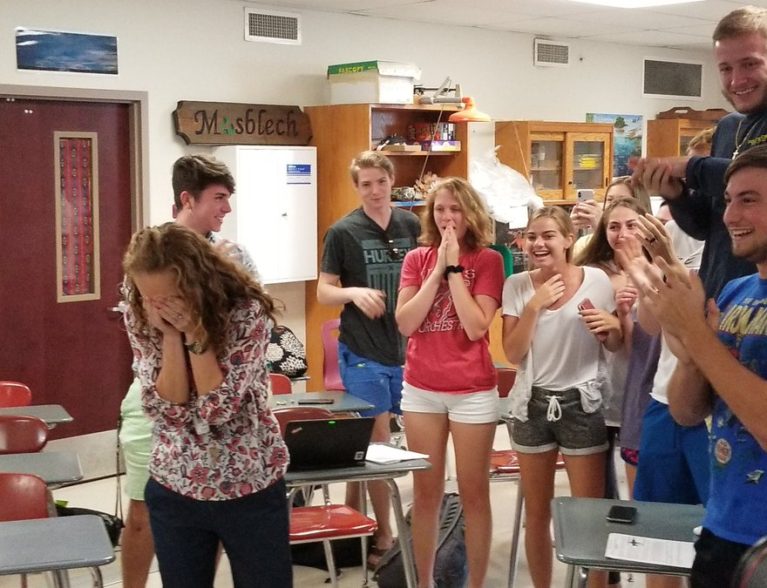 VERO BEACH — Dr. Nicole Mosblech got quite the surprise Tuesday morning when Florida Department of Education officials joined school district staff in naming her as a top 5 finalist for state teacher of the year.
"Being chosen as one of the finalists for Florida Teacher of the Year is such a great honor!" said Mosblech, who got the surprise during her third period AP environmental science class. "I'm so incredibly proud to represent Vero Beach High School and Indian River County teachers; a community of professionals who all deserve to be celebrated for ways in which we allow our students to learn and grow each day."
In January, Mosblech was chosen as district teacher of the year during the school district's Stars of the Year Gala, officials said. Then, Mosblech went to work on accomplishing various tasks to secure a spot to become a top state finalist.
Along with her state packet, Mosblech submitted a recorded 30-minute lesson, officials said. The lesson involved a case study where students used scientific research and published data to analyze the effectiveness of culling wolves to save endangered caribou as a conservation strategy.
"Dr. Mosblech is more than deserving of recognition as a 2020 state finalist and will represent Vero Beach High School and Indian River County well," Superintendent Mark Rendell said in a statement. "We are fortunate to have such a strong instructional staff in our district.  We have had one of our educators honored by the state as a finalist in each of the past four years."
This year's five finalists were chosen from more than 176,900 public school teachers throughout Florida,
officials said.
Each school district selects its teacher of the year, officials said. Then, a selection committee reviews the each district application based on outstanding ability to teach and communicate knowledge of the subject taught, professional development, philosophy of teaching and outstanding school and community service.
In June, Mosblech will join the other finalists in Tallahassee to be interviewed by the state selection committee. The Florida Department of Education teacher of the year will be announced in July at the department's round table and gala.