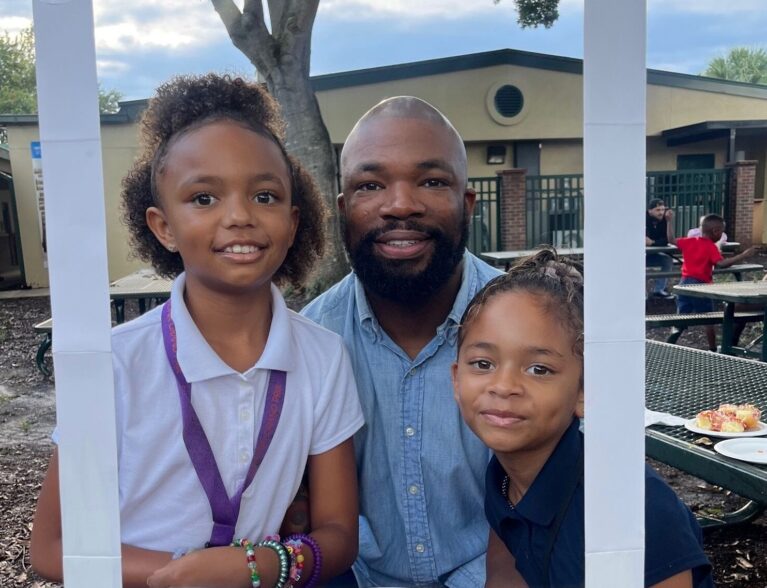 INDIAN RIVER COUNTY — From sharing doughnuts to holding hands, the love for dads was evident this week in the hallways of public schools across the county.
Elementary, middle and high schools showed their appreciation for dads and father figures by hosting a breakfast before classes. It was a simple reminder to celebrate dads more often and not just on Father's Day.
"It is my son's first year of (elementary) school. I want him to know that we support him and will be involved in his education experience," said Sebastian Police Capt. Tim Wood, who posed for a photo-op with his son during one of the events.
The campuses held their own celebrations – each with a unique name and held throughout the week – for Dads Take Your Kids To School Day. Whether it be "Donuts for Dudes" or "Donuts with Dad," the overall focus was honoring the men who students call "my dad, my hero."
Some campuses, like Fellsmere Elementary School, welcomed a large group of fathers walking their children to school. The positive energy was contagious as the dads and children smiled while being greeted by school staff.
Fellsmere Police Chief Keith Touchberry said it's important for law enforcement officials to partner with schools during events like this.
"It provides an opportunity to show support for school initiatives, build relationships with families and be part of the community," said Touchberry, who led the group of dads walking to the campus.
Other schools like Rosewood Magnet Elementary School created cut-out posters that read "you are so loved," "my dad, my hero," and "donuts with my grown-up." Citrus Elementary School hosted a V.I.P. Day for dads, where fathers and father-figures showed up in droves beaming with smiles.
Osceola Magnet Elementary School created a makeshift hot-air balloon-styled photo booth where students posed for pictures with their dads. Grandfathers, dads, uncles and brothers bonded with students at Gifford Middle School.
Students at Dodgertown Elementary School, Vero Beach Elementary School and Sebastian River Middle School posed with large, inflatable donuts.
"'Dads Take Your Child To School' is such a special day. The involvement of fathers in a child's education is so important," Dodgertown Elementary School Principal Felice Bagley said. "It warmed my heart to see all the dads, uncles, brothers and other male role models, including our school resource deputy, show up to support our students."