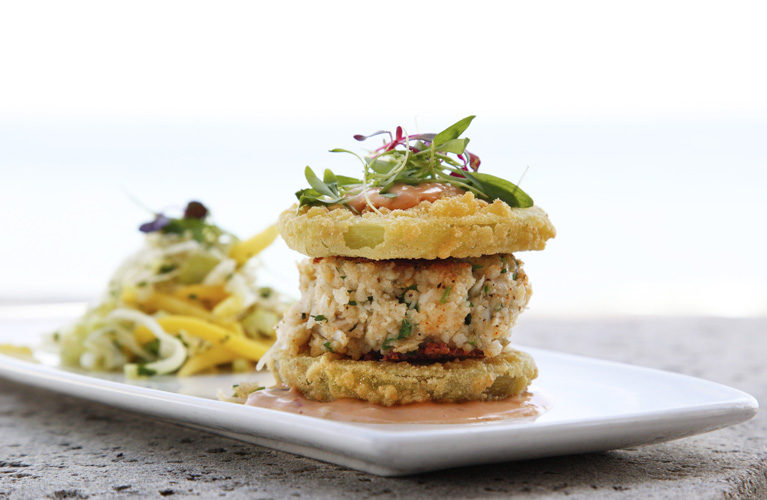 On a gorgeous midwinter evening, we decided it would be a lovely night to dine on Cobalt's magnificent oceanfront patio.
As it turned out, this thought had occurred to others quite a bit earlier. But perhaps there might be a table just inside the spectacular 15-foot-high glass wall that looks out on the firepit? Nope, those had all been claimed as well.
That's what happens during season when you don't have reservations.
But the hostess found a perfectly nice interior table (sans view) for our party of three, and a server quickly arrived to take our drink orders.
For starters on this visit, I decided to pass up a couple of old favorites and try a new appetizer – the fried green tomato with crab ($20). Our companion opted for the crispy calamari ($15) and my husband went for a half dozen oysters on the half shell ($24).
My dish consisted of a stack of fried green tomato, Caribbean blue crab cake, and another slice of fried tomato, with a Cajun remoulade on top. This was accompanied by a pickled jicama and mango salad. A very creative mix of tastes.
Our companion enjoyed his fried calamari served with crispy banana peppers and charred tomato salsa. And my husband's oysters – half Atlantic ($3.50 each), and half Pacific ($4.50), served with a Champagne mignonette – were positively sublime .
Then for entrées, I decided to try the cioppino ($39), my husband chose the pompano ($33), and our companion ordered the swordfish ($28).
Grilled swordfish has always been a good choice at Cobalt, and our companion said his beautiful piece of sword – served atop succotash – was cooked perfectly. My husband also gave high marks to his grilled pompano served with rappini.
But my hearth-baked cioppino was the piece de resistance of the evening.
For those not familiar with cioppino, this dish supposedly was invented by fishermen who would toss their leftover catch into a pot at the end of the day. Just about every cioppino starts with tomato sauce and shellfish, but the exact recipe varies considerably.
Cobalt's version of this maritime stew consisted of a pot of mussels, clams, white fish, shrimp, scallops and a large Dungeness crab. By baking this dish in a very well seasoned broth, Cobalt managed to infuse its cioppino with all the flavors of the seas. This was the best rendition I have had in Vero.
We concluded the dinners with a slice of grand marnier cake with a very sweet frosting and chocolate mousse. Dinner for two with wine, before tax and tip, should run somewhere around $150.
On a good night, Cobalt is a very good hotel restaurant. While disappointed at not having a table with a view, we did have a fine meal and are pleased to see Cobalt getting the patronage it deserves.
I welcome your comments, and encourage you to send feedback to me at tina@verobeach32963.com.
This reviewer dines anonymously at restaurants at the expense of Vero Beach 32963.
Cobalt
Hours: Dinner daily, 5:30 p.m. – 10 p.m. Lunch, Monday through Friday, 11 a.m. to 2:30 p.m.; Brunch, weekends 8 a.m. to 2:30 p.m.
Beverages: Full Bar
Address: 3500 Ocean Drive, Vero Beach
Phone: 772-469-1060
Photos by: Kaila Jones
Click HERE to see more or buy photos