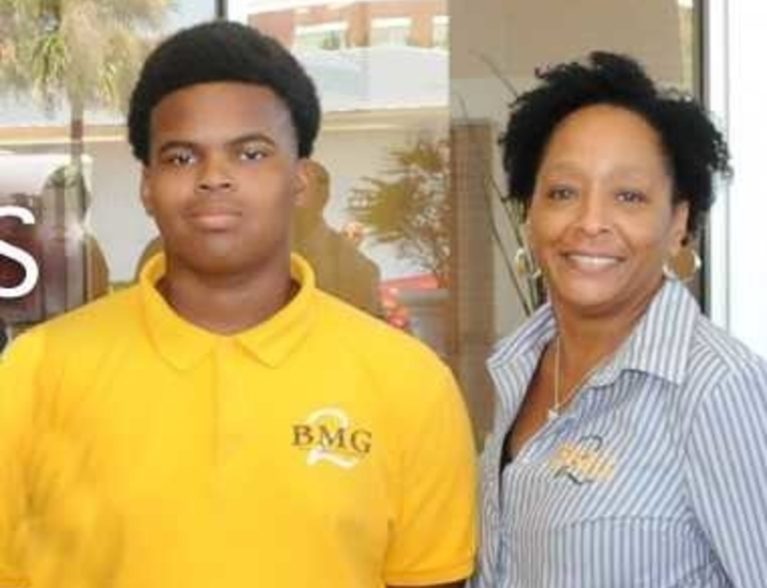 Photo provided by Aundrea Perry
SEBASTIAN — A 17-year-old Sebastian River High School student athlete who collapsed and died last year suffered a sudden cardiac attack from heart muscle complications, an autopsy report shows.
The report shows that Kamaree Jevon Lyons, a senior, had cardiomyopathy, a heart muscle disease. The disease makes it harder for the heart to pump blood to the rest of the body, according to health care company Mayo Clinic.
A preliminary autopsy showed that Lyons had heart abnormalities. The final autopsy report was completed March 3 by the District 19 Medical Examiner Department.
Lyons' sudden death impacted many in the community, including teachers, teammates, and local leaders. The teen aspired to become a graphic designer and was set to graduate this summer from high school and the Boys 2 Men 2 Greatness Mentoring Program, where he was a lead mentee, according to school and Gifford Youth Achievement Center officials.
Lyons attended the GYAC since he was in kindergarten, Marketing Coordinator Christina Tascon previously said. Lyons' football teammate, Emmanuel White, said the two planned to attend Indian River State College together.
"We taught each other everything. I taught him about being a lineman," said White, 17, during a candlelight vigil held for Lyons several days after his death. "If he was going through his own personal problems, he would set that aside and be there for you."
Lyons was playing basketball Sept. 2018 at the high school gym when he walked off the court and collapsed, school officials said. The teen was taken by ambulance to a local hospital, where doctors pronounced him dead, according to school officials.
Lyons, who played for the school's football and basketball teams, was described by many as well-loved, respectful and 'on the way to becoming a bonafide leader.' School officials held the vigil for the teen at the Sebastian River High School football stadium.
School officials retired Lyons' football jersey number 43 during the vigil. The number will never be worn again by another player.
"The kids respected and listened to him," said Lyons' older cousin Freddie Woolfork, the Director of Public Relations for the Gifford Youth Achievement Center, a couple days after the teen's death. "Death ignites the flame of sadness that never goes away. (Kamaree) wouldn't want us to be sad."
Lyons' death is not the only loss Sebastian River High School has suffered in recent months.
Earlier this month, Indian River County deputies charged Elisha Martin with first-degree murder in the Feb. shooting death of student athlete Logan Spencer. Deputies said Martin shot Spencer execution style and left his body in a wooded area in Fellsmere.
Spencer had been missing since Feb. 18. A resident found his body several days later in the 13000 block of 87th Street, according to deputies.
Martin, 18, and Spencer, 16, both of Sebastian, were enrolled at the high school. Spencer –  a junior who wore the jersey number 78 – played for the Sharks football team.