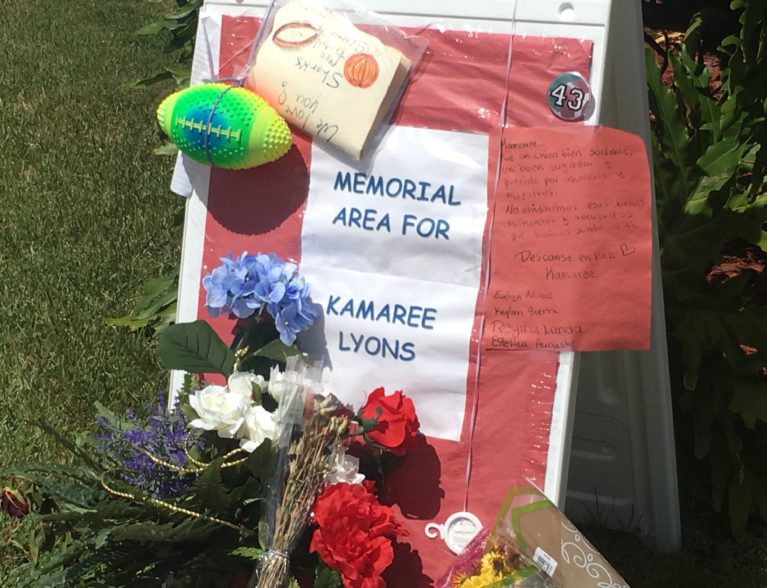 INDIAN RIVER COUNTY — Preliminary autopsy reports show that a 17-year-old who died after collapsing at a school gym might have had heart complications.
"There were some abnormalities found in the heart," said Christine Canard, administrative manager for the 19th District Medical Examiner's Office in Fort Pierce. "Further testing is pending to determine the final cause of death."
The final autopsy for Kamaree Jevon Lyons could be completed in about six to eight weeks. A memorial tribute for Lyons that has a basketball, gym shoes, balloons and notes to the teen could be seen Wednesday at the front entrance to Sebastian River High School, 9001 Shark Boulevard.
A note written on the basketball read, "Gone…but never forgotten."
Lyons, a senior, played for the school's football and basketball teams, school officials said. Many residents described the teen as well-loved, respectful and "on the pathway to becoming a bonafide leader."
Lyons was playing basketball at an open gym shortly before 7 p.m. Saturday on the school campus. The teen then walked off the court and collapsed, school officials said.
Lyons was then taken by ambulance to a local hospital, where doctors pronounced him dead, according to school officials.
A candlelight vigil for the teen was scheduled for about 8:15 p.m. Thursday at the Sebastian River High School football stadium. A funeral service is scheduled for 11 a.m. Saturday at Central Assembly Church, west of Vero Beach, according to the Gifford Youth Achievement Center.
Photos by Nick Samuel