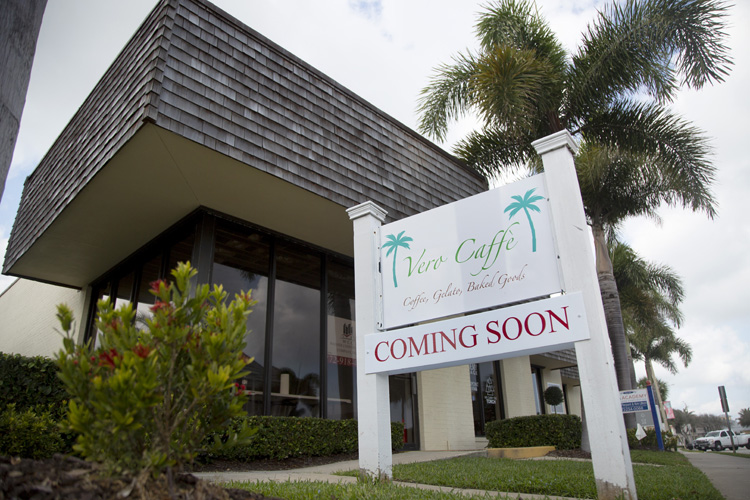 What is billed as an authentic Italian coffee, pastry and gelato shop is coming to Cardinal Drive this spring, according to business owner Joseph Nutt.
How authentic?
Nutt, a retired advertising executive, traveled to Bologna, Italy, where there are hundreds of gelato purveyors to study the art of gelato making in preparation for opening his shop in Vero. He also imported two Italian gelato machines.
His business, Vero Caffe, will be located in a small retail/office building at 3225 Cardinal, between Azalea Lane and Bougainvillea Lane, next door to Chelsea's, in a section zoned C-1A, Tourist Commercial Services.
The single-story, 3,400-square-foot building was built in 1978, according to county records, and is owned by Bailey Properties. Nutt is leasing the largest of five storefronts in the building from Bailey, a 900-square-foot space that formerly was an art gallery.
He has secured demolition and renovation permits from the county and Wanser Construction Company is performing what the permit lists as "interior buildout to coffee shop," which involves a number of plumbing and electrical alterations, as well as new partition walls and other changes.
Before settling on the Cardinal Drive location, Nutt looked at a spot in Miracle Mile; it didn't seem quite right for the relaxed, European experience he has in mind for his customers. He also considered a location on Ocean Drive that was, in his words, "a little steep, pricewise."
He found the spot next door to Chelsea's while walking around Central Beach, scoping out the dining scene. Bailey properties, which has its office in the same building, had a "For Lease" sign up on the storefront and he called them and made a deal.
Other tenants in the building include a mortgage broker, a travel agency and an interior design studio.
Nutt hopes to open in April, offering gourmet coffee, Italian gelato and homemade baked goods. He acknowledges an April opening may be less than ideal, coming at the end of the busy winter season, but he likes the Cardinal Drive location – in part because it is just across the street from Casey's and the post office, which get good foot traffic, and near other restaurants and cafes.
He wants customers – retirees and vacationers with time to stop and relax – to feel at home in his shop, lounging for hours sipping Italian coffee drinks and savoring gelato and Italian baked goods.
"I'm not interested in herding them in and out," he said.
He will not serve meals – no breakfast, lunch or dinner. No sandwiches. No pizzas. For that reason he doesn't see his business as competing with Chelsea's.
"That's not my ambition," Nutt told Vero Beach 32963. "They'll continue to have their clientele who want a meal. We'll have snacks and coffee."
"We don't really know what to expect" of Vero Caffe, said Chelsea's general manager Christian Bordoli, adding that he wishes the owner well. "I think competition's good, [this area is becoming] Vero Beach's little coffee corner."
"That is an awesome location for what the owner has in mind," said commercial real estate broker Billy Moss, who handles many of the restaurant property sales and leases in Vero. "If they have a good product, which I have heard they will, they will do fantastic in that spot."
To start, Nutt plans to be a one-man shop.
"I've always been a hands-on person," he said, explaining he wants to establish Vero Caffe's reputation before bringing on staff.
"If it succeeds, I can pat myself on the back," Nutt said. "If I fail, I can kick myself in the backside."
Main image: Vero Caffe at 3225 Cardinal Drive. [Kaila Jones/32963]