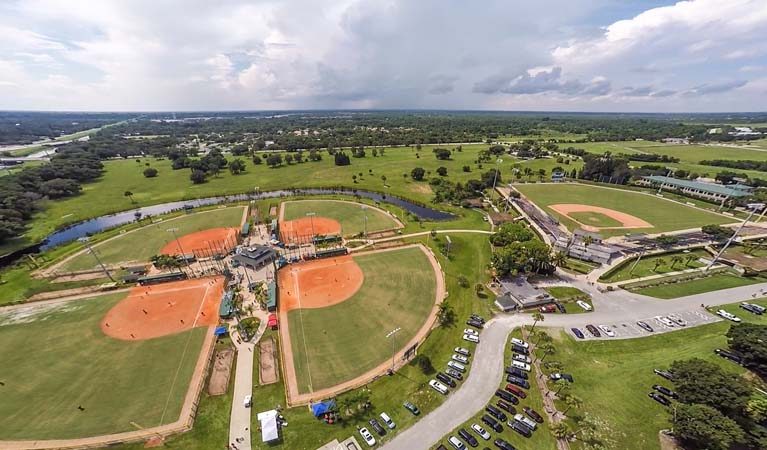 Vero Beach—Historic Dodgertown, once a place where Jackie Robinson played ball, will serve as the site of two camps over the holiday weekend celebrating Civil Rights leader Dr. Martin Luther King Jr.
Factory Athletics' Baseball Factory and Softball Factory are hosting student-athletes during "spring training," which will include a baseball showcase.
According to Historic Dodgetown staff, Baseball and Softball Factory have chosen for years Historic Dodgertown to host their games and training.
Historic Dodgertown provides a "valuable major league designed experience to their athletes," staff said.
All the student-athletes will play on the same fields, stay in the same rooms, and use the same locker room and dining facilities as 60 years of Dodger baseball. Historic Dodgertown, founded in 1948, is the former Spring Training home of the Brooklyn and Los Angeles Dodgers. More than 150 baseball Hall of Famers and top-level softball athletes have played and visited at the facility.
The Baseball Factory session is by invitation-only. Baseball Factory is celebrating its 25th year as the nation's leading baseball player development and recruiting services brand. Founded in 1994, Baseball Factory has helped more than 100,000 players earn more than $1 billion in scholarships over the past 25 years.
Softball Factory assists youth and high school players in their skill development while providing guidance both on-and-off the field. The training staff is comprised of former college players, coaches and recruiters, and the camp goal is to assist each student-athlete play at the college level.
Historic Dodgertown is the Southern Training Center for Softball Factory.
For more information. visit www.BaseballFactory.com or www.SoftballFactory.com.
To learn more about Historic Dodgertown, visit www.HistoricDodgertown.com.