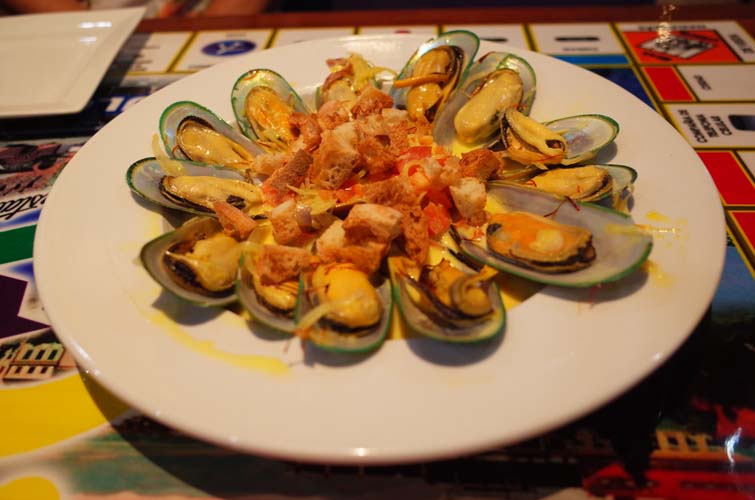 When a new restaurant named Inti opened almost a year ago just off Miracle Mile, we thought it had the potential to be an exciting addition to the Vero dining scene.
Totally done in bright colors, Inti had a cool vibe – and the menu featured intriguing dishes from a half-dozen Latin countries, something not found elsewhere in Vero.
But while we still think this restaurant has a great deal of potential, on a visit last week the high points were mixed with some disappointing lows.
The evening got off to a good start with a dish of cancha – the salty Peruvian corn snack – and a pitcher of red sangria. And we were even more pleased to find Inti now featuring guacamole made tableside ($10.99) – a first-class preparation that deserved better than the store-bought tortilla chips.
Our party of three also ordered as an appetizer the mussel casserole ($13). This was a beautifully presented dish with the mussels topped by a white wine and saffron cream sauce. The taste was very good; the mussels, not so much.
But we barely had time to sample a couple of the mussels when our server appeared with our entrées.
"I can take them back and hold them in the kitchen," she said. Well, warmed up main courses were hardly what we were hoping for, so we set the mussels and guacamole aside, largely uneaten, and turned to our entrées.
Our companion had ordered the pescado a lo macho ($17) – a fish filet topped with spicy seafood sauce and a touch of pisco.
For better or worse, she was served instead the jalea mixta ($17) – a mix of fish, calamari, octopus, shrimp and mussels seasoned and breaded with homemade sauce and red onions.
This was unfortunate in the sense that she did not get the dish she wanted, and didn't eat the breaded and fried fish included with the Jalea Mixta. But maybe this was just as well because the server told us Inti is still using swai, an Asian farm-raised catfish. The attraction of swai is that it's very cheap, but Google it and decide for yourself if this is something you want to eat.
For his entrée, my husband ordered the bandeja paisa ($17.50) – a Colombian platter consisting of beans, chicharron, morcilla, avocado, arepa, plantains, steak, sausage and a fried egg over rice. The chicharron (fried pork rinds) and the morcilla (blood sausage) were both very tasty.
My entrée, the lomo saltado ($15.50), was the night's big winner. The Peruvian marinated strips of sirloin steak were wonderful, and lent a great flavor to the French fries. A totally delicious meal.
I have on previous visits tried the chaufa, a very flavorful mix of Peruvian and Chinese fried rice with steak and chicken ($15). And I also enjoyed the tallarin verde con bistec ($15.50), a plate of green pasta with pesto sauce topped by a small sirloin.
The other comment I would make is that in an effort to provide something for most everyone, Inti has made Friday nights open-mic night. Alas for those seeking to enjoy dinner, the singers on our visit tried to make up in volume for their difficulty in carrying a tune.
So where do I come down on Inti? At this point, I don't quite know what to say.
The dishes are interesting, the chef is obviously talented, and the restaurant physically is attractive. On the other hand, the ingredients need upgrading, and the service could stand improvement. A little more managerial attention to what's going on would clearly help.
Vero could use a good Latin restaurant, and I still haven't given up hope for Inti.
I welcome your comments, and encourage you to send feedback to me at tina@verobeach32963.com.  
The reviewer dines anonymously at restaurants at the expense of Vero Beach 32963.  
Inti
Hours: Sun Noon-9pm, Mon-Sat 11am-closing
Beverages: Full Bar
Address: 2199 7th Ave., Vero Beach
Phone: (772) 257-6652