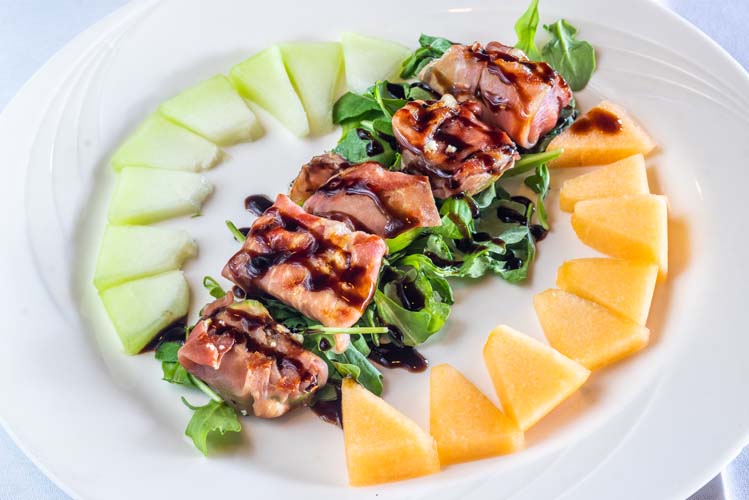 In recent years, Trattoria Dario has gained a well-deserved reputation for consistently fine food – even while having an unusually high turnover of executive chefs.
The latest to preside over this South Beach bistro's kitchen is Chet Perrotti, who happily seems more comfortable back preparing Italian cuisine than he was across the street at a restaurant long known for its French fare.
But while some restaurants are very much a creature of their chef, the man who keeps Trattoria Dario near the top of the island's food pyramid is its omnipresent proprietor, Dario Bordoli. This restaurant is his baby.
On our most recent visit, the charming Bordoli was, as usual, at the front door to greet us.
While we often dine out on the enclosed seaside patio, we opted on this occasion for a booth in the attractive red dining room.
No sooner had we placed our wine order when Tyler – one of the trattoria's great servers – brought us a basket of hot bread out of the oven and a dish of olive oil and herbs.
On this evening, I decided to have the risotto pescatore ($34). My husband and our companion, however, heard that swordfish was the grilled local catch on the special summer menu (3 courses for $25), so both went for that option. All three of us started with the classic Caesar salad.
My entrée consisted of saffron risotto with shrimp, scallops, clams, mussels and calamari, in a light tomato sauce. The seafood was perfectly prepared – a delicious dish – and my only quibble would be that the risotto could have used a bit more of the distinctive taste of saffron.
The swordfish, however, drew raves – nice thick cuts, grilled just right, and served with an Indian River citrus sauce along with haricot verts and creamy risotto.
For dessert, we shared the chef's daily creation – a tasty bread pudding.  A great way to end the meal.
On a visit a couple of weeks earlier, both my husband and I had the summer special.
I absolutely loved the shrimp pesto – wonderful shrimp served in a pesto cream sauce over penne pasta – and my husband again enjoyed the grilled local catch (which miraculously was something other than his beloved swordfish).
In addition to wonderful seafood and pasta entrées, Dario's also offers excellent steaks, veal chops and ossobuco. And in a nice bow to kitchen continuity, the trattoria is still serving the piece de resistance of its previous chef – cioppino.
In its sixth year, this trattoria has become a favorite of many island residents.  Chefs may come, and chefs may go – but Bordoli insures that the dishes, the wines, the service all remain at a consistently high level. The name on the door tells it all. This is very much Dario's trattoria.
I welcome your comments, and encourage you to send feedback to me at tina@verobeach32963.com.  
The reviewer dines anonymously at restaurants at the expense of Vero Beach 32963.  
Trattoria Dario
Hours: Daily 4 pm to 10 pm
Beverages: Full Bar
Address: 1555 Ocean Drive, Vero Beach
Phone: 772-231-1818
Photos by: Gordon Radford
Click HERE to see more or buy photos