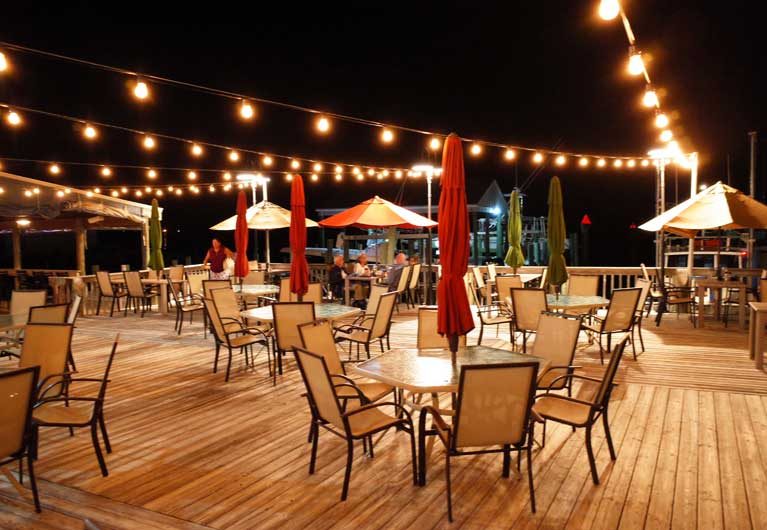 A year and a half after it closed, Capt'n Butcher's is back – sort of.
We were pretty excited when we heard that our favorite spot for dining al fresco on the Indian River waterfront in Sebastian was once again open.
But it's under new ownership, the menu is totally changed, and the food is uneven – some dishes very, very good, some . . . well, not so good.  Only the view is the same.
On a recent warm evening, we arrived shortly after 7:30, and told the host that we would like to dine on the outside deck.
While there was a table free next to water – where you can watch the fishing boats coming in and out of the marina – the host showed us to a not-so-charming table on the path to the dock.
When we demurred, he grudgingly agreed to clear the dishes from the empty table, and a couple of minutes later, handed us menus and said, "You can go over there."
This less than inviting start was offset by the arrival of veteran server Misty, who was both cheerful and attentive.  Misty quickly took our drink order, and we decided to start with the fried calamari ($11), served here with pickled asparagus and onions.
While the dish was crisp and crunchy, it unfortunately consisted largely of flash-fried breading.  I can't recall seeing as few calamari in a squid appetizer.
Next, I ordered a Caesar salad ($6) and my husband decided to try the New England clam chowder ($6), which he remembered quite fondly from the old Capt'n Butchers. This clam chowder was a different story – more, my husband said, like potato soup.  As for my salad, it was heavily drizzled with a dark balsamic – not exactly what I was expecting in a Caesar.
Then for entrées, I opted for the shrimp and grits ($24) and my husband decided to go with the fish of the day, swordfish ($21).
The shrimp sautéed in redeye gravy were served with cheese garlic grits topped with rendered bacon and chives.  This was a great dish, the shrimp well prepared and the sauce very tasty.  My husband's grilled swordfish was a nice piece of fish, accompanied by rice and asparagus.
For dessert, we shared a slice of a house-made cheesecake ($8).
Our dinner for two with a modest bottle of wine came to $105, before tax and tip.
A few days later, we returned for a Saturday lunch, nursing memories of lunching on the old Capt'n Butcher's steamed clams, lobster rolls, and fried shrimp and oyster Po Boys.
Alas, these all have disappeared.  The clams, we were told, had been taken off the menu because "we couldn't get good ones." And the lobster rolls are "not coming back for different reasons."
In any event, my husband started with the lobster bisque ($6). Out came a half-filled cup of a gummy substance more like a pudding than a soup (but in fairness, cheerfully taken off the bill). The stuffed portobello sandwich ($13) I finally chose was relatively tasteless.
But on the other hand, my husband's blackened mahi BLT ($16) was excellent – and it was accompanied by wonderful large French fries!
So what to make of all this?  Well, forget the old Capt'n Butcher's. This is a totally new restaurant – run by a group that has a couple of restaurants up north of Melbourne in Rockledge – which has kept the old name, but has its own approach to food.
The old dishes that many loved are gone. Will we become more enthusiastic about their replacements? All we can say for the moment is Capt'n Butcher's is still a beautiful spot for al fresco dining.
I welcome your comments, and encourage you to send feedback to me at tina@verobeach32963.com.
The reviewer dines anonymously at restaurants at the expense of Vero Beach 32963. 
Capt'n Butcher's
Hours: Daily from 11 am to 9 pm
Beverages: Full Bar
Address: 1732 Indian River Drive, Sebastian
Phone: 772-918-4229