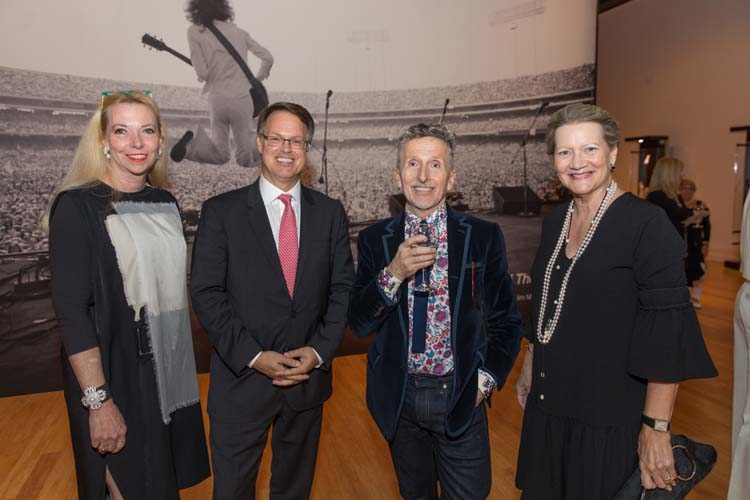 Fashion took center stage Feb. 28 at an inaugural Art of Fashion: Eccentric Glamour event at the Vero Beach Museum of Art featuring Simon Doonan, Creative Ambassador of Barney's New York and former window dresser extraordinaire. The afternoon also featured a Trunk Show of jewelry by Llobycats, created by former Vero resident Stacy Boll.
"I had worked with Simon 20 years ago. I was the fashion director for an upscale shopping center on Long Island, Americana Manhasset. Simon was at that point the window dresser for Barney's New York," said Karen Loeffler, who co-chaired the event with Melinda Cooper, owner of Cooper & Co.
Loeffler explained that Doonan was also responsible for Barney's suburban stores and she got to know him when he visited them for a book signing of his first book, "Confessions of a Window Dresser."
"I hadn't seen him in 20 years but I knew what he could do and I knew it would be fun for the people of Vero Beach," said Loeffler. "He was an absolute joy to work with; he got it."
"I'm so excited they decided to have a fashion event," said Trude See, as guests mingled with Doonan during a VIP sponsor reception. She, like many of the guests, used to work in retail. "I'm a Neiman Marcus girl. I think it would be marvelous to have it become an annual event."
Wearing a trademark floral shirt and, of course, bling, Doonan charmed the audience with witty stories of his more than 35 years as "the world's most famous window dresser," sharing a trip down memory lane with slides of just some of his extraordinary displays.
Doonan, who said he figured out over the years how to get people's attention, is world renowned for his "celebrity" windows which often included "really bad puns."
"A good window is often a sight gag," said Doonan as he showed a window that showcased the late gossip columnist Liz Smith sitting atop a "gossip column" at a stable, "getting it from the horse's mouth."
"I always tried to do unconventional windows that nobody else was doing," said Doonan, a creative artist whose edgy, often astonishing displays employed everyday objects in not-so-everyday ways. "There should be some element of surprise."
"I think the women loved him. Anyone who went up to him, he was very friendly and open," said Cooper. "I loved his caricature windows. They were so thought out; how he brought in every aspect of their lives. I think we were so lucky to have him here."
Loeffler said her favorite part was during Doonan's opening remarks, when he told the story of having to dress at the last minute as the Queen of England for a Barney's event. "He told the story in order to liberate the audience from their feelings of insecurity in their appearance. He wanted to make them realize that we are harder on ourselves then we need to be."
Proceeds from the event will support various VBMA educational programs.
Photos by: Denise Ritchie
Click HERE to see more or buy photos