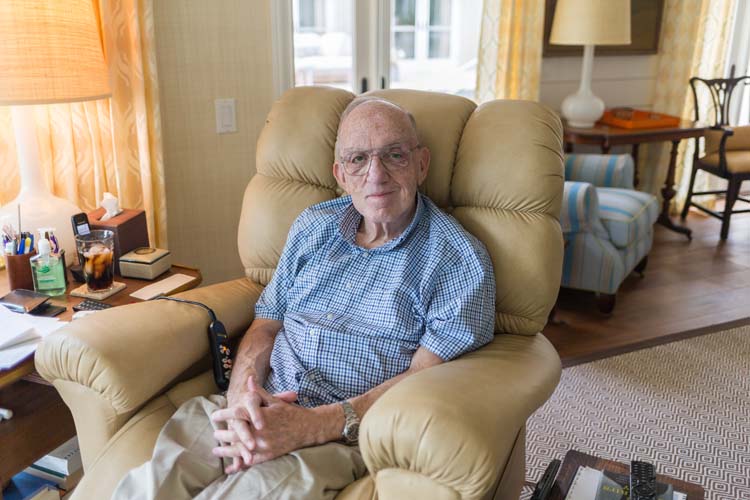 Now 79 and more than a quarter century removed from his tumultuous tenure as Major League Baseball's eighth commissioner, Fay Vincent won't say he feels "hurt" by the shabby way he was treated by his successor and the team owners who pushed him out of the game he still dearly loves.
Too often throughout our 50-minute conversation, however, there was a melancholy tone to his words, a noticeable pain in his voice.
The John's Island resident continues to be viewed by baseball's brass as a persona non grata – a not-so-subtle shunning that began when he left the commissioner's office in September 1992.
Not once during the past 25 years has Vincent been invited by the commissioner's office to attend a World Series, or an All-Star Game, or even the playoffs.
Only once has Vincent been invited to throw a ceremonial first pitch, and the last regular season game he attended was in June 1997.
For all intents and purposes, Vincent has been cruelly, spitefully and disgracefully banished by an influential faction of baseball's Sanhedrin led by team owners Jerry Reinsdorf of the Chicago White Sox and Bud Selig of the Milwaukee Brewers.
After Vincent was ousted, Selig served as baseball's acting commissioner from 1992 to 1998, when his fellow owners formally elected him to the office, which he continued to occupy until his retirement after the 2014 season.
Rarely during his reign did Selig mention his predecessor's name – and certainly not in any positive way.
"To do such a difficult job for them and not be appreciated was very disappointing," Vincent said. "It would've been nice to get even tepid applause on the way out, but there wasn't even that. They wanted me gone, and they never regretted what they did.
"But I understand why," he added. "They weren't happy with me as commissioner. I was there at the wrong time. They were at war with the players. They wanted to break the union. And they thought I was too soft on the union."
What galled the owners most was Vincent's refusal to relinquish the commissioner's power to act in the "best interests of the game" in matters pertaining to collective bargaining.
They hired him. They paid his salary. They wanted him to act in their best interests – not conduct himself as a fair and objective arbiter.
Vincent, though, couldn't do that.
In fact, Vincent admitted there was collusion by the owners in the 1980s, when the owners agreed to work together to avoid competitive bidding for players.  The union went to court and the owners eventually settled three claims for a total of $280 million.
What ultimately ended his run as commissioner, though, was his staunch opposition to owners who wanted to bust the union.
"They wanted to destroy the union and roll back the gains that the players had made," Vincent said, "and they knew I would've stood in their way."
A quarter century later, Vincent believes the owners and players will eventually "marry" and become business partners.
Leading that effort is likely to be Rob Manfred, who succeeded Selig as commissioner.
Vincent hasn't been to a big-league ballpark in more than 20 years. Instead, his connection with baseball now is limited to watching games on television. But he misses being at the ballpark, talking with players and umpires, reminiscing with old friends, being part of the game.
It would be wonderful if someone, perhaps Manfred, reached out to Vincent.
Someone needs to bring him back to the ballpark for a World Series, or an All-Star Game, or the playoffs.