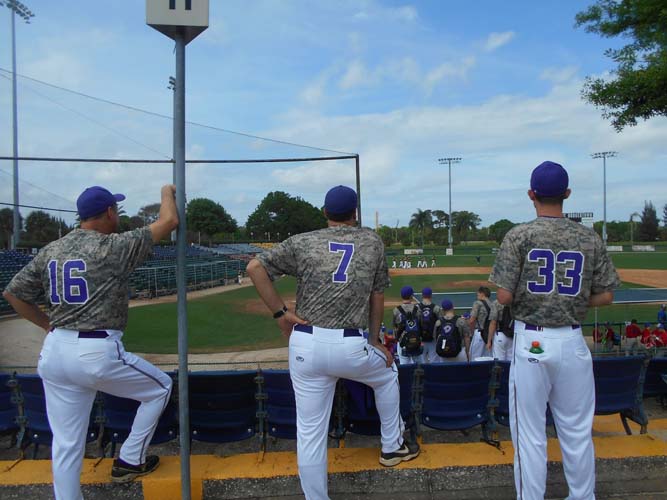 Batter Up!
Seventy-six youth baseball teams are set to play in the Presidents Day tournament this weekend.
Nearly 1,200 athletes ages nine to 18 will take the fields to play ball at the Treasure Coast Presidents Day Challenge, which runs from Saturday through Monday. The tournament will have 11 teams from the states and one team from Canada, according to officials.
The tournament, which kicks of Historic Dodgertown's busy sports spring season, is co-sponsored by the Treasure Coast Sports Commission. Youth will compete at Historic Dodgertown and additional off-site locations, such as South County Park in Vero Beach and Lawnwood and Lakewood parks in Fort Pierce.
Trophies will be handed out to winning teams at the end of the tournament, said Ruth Ruiz, marketing and communications director for the facility. The schedule of games can be found here.
Immediately following the Presidents Day Challenge will be the Historic Dodgertown's College and High School Spring Training program. The program runs from Feb. 25 through April 28 and is one of the largest programs in the nation for baseball, softball and lacrosse, officials said.
More than 1,100 sports and corporate teams from 30 states and 10 countries visit Historic Dodgertown annually for training in baseball, softball, soccer, lacrosse, rugby, football and water sports. The teams also come for umpire development training, business meetings, retreats and more.
Teams that stay on the property enjoy recreational amenities such as a competition-sized swimming pool and large deck, lighted tennis and basketball courts, major-league designed fitness room, sand volleyball court and more.
For 60 years, Dodgertown was the spring training home of the Dodgers, and major league players prepared for their upcoming seasons on this campus, according to officials. The mutli-sports facility, located at 3901 26th Street, will celebrate its 70th anniversary this year.
For more information on Historic Dodgertown, visit its website.