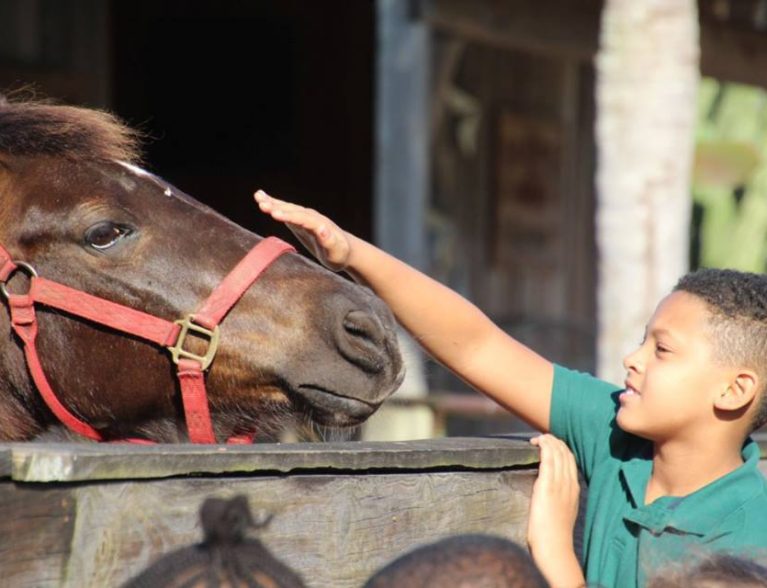 SEBASTIAN — Pony and horse rides, feeding animals and experiencing a grand tour are just a few things youth at the Gifford Youth Achievement Center enjoyed while visiting LaPorte Farms.
About 40 youth from kindergarten through 3rd grade went to the farm Wednesday, located at 7700 129th Street, Sebastian. Youth were able to feed fish, llamas, ponies, potbelly pigs and more all while learning about the animals and nature from farm workers.
"It's very important to let people come and experience the animals," said LaPorte Farms owner Laura LaPorte. "It's a great form of therapy."
GYAC Marketing Coordinator Christina Tascon said all the youth loved seeing the animals at the five-acre farm. The farm also has tortoises, donkeys, miniature horses, parrots, small birds, zebras, cows, rabbits, peacocks, ferrets, chickens, turkeys and geese, LaPorte said.
"Once they got on the horse, they had big smiles," Tascon said. "They get very tender and sweet when touching the animals."
LaPorte Farms has been in operation for 24 years, LaPorte said. For more information on the farm, contact LaPorte at 772-633-0813 or [email protected]
Here are some photos from the event:
Photos provided by GYAC